So, I
couldn't find
any burgundy shoes and then I
discovered
some potential design-your-own shoes. Then, I abruptly left you all with some boxes from Zappos containing shoes in two sizes to test before ordering. So, what do you think I did next? I tried on the shoes of course.
I had ordered size 8 in a fuschia color secretly hoping it would be more red and less pink than the picture online showed so I could really just pull off those ones and not order the custom pair. Then, I ordered the 7 1/2 in powder because once I realized officially that none of the standard colors would work, I couldn't care less what color I ordered them in.
The shoes were lovely. Such a great height, the satin was so elegant, and the bow was a perfect touch of cute. I loved them. Unfortunately, upon trying them on, I realized perhaps they don't love me so much. The problem? The size 8 was too big and the 7 1/2 was too small. Call me Goldilocks, but why can't they have a size 7 3/4? Honestly, is it too much to ask for shoes that fit "just right"? Anyway, I photographed the fits - have a look:
The fuschia size 8s - aren't they pretty? They look pretty good from above, right? Wrong. Notice how loose the left ankle strap is and the extra space in the right toe.
And from the side, too - look how well they suit my (lack of an) arch. These shoes were sure to provide some great support. My feet don't look bunched into the shoe at all, and all is well...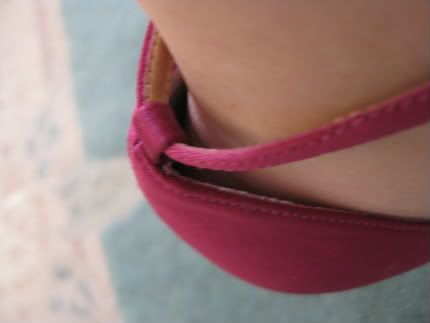 ... until you see how much space is left in the back. Dun dun dun. They slipped all around when I walked and rubbed my heels. In fact, the strap around the ankle was too big, too, and the looseness rubbed rather painfully as well.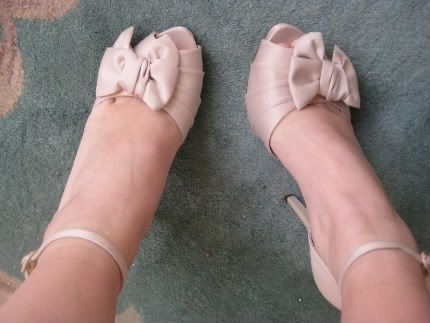 Size 7 1/2 in powder looked pretty good from above, too, but look at the toe cleavage showing by my left pinky toe - perhaps that's a symptom of how squished my toes were in there. The powder color fully convinced me that I wanted colored shoes - doesn't the light color look ridiculous with my pale skin?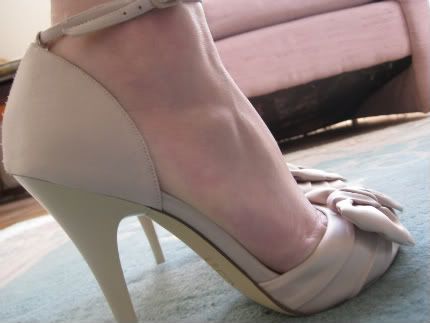 See how my foot seems to kinda bulge out in this one? That bottom section of the shoe just isn't big enough to fully squish my toesies into. These were very tight and my pinky toe was pretty sqashed and kinda fell asleep after awhile, but walking in these was much easier - my heel didn't slide and the strap fit tightly.
So, tell me, what's a Goldilocks to do when there is not third option? Is it better to wear a shoe that is too big or too small? I really think that this is the shoe for me - the style is so very me, the height is great when standing next to David, and the color will work nicely - but, I just don't know about the fit. I think my best option would be to order the smaller size and try to stretch out the toe area prior to the wedding. What do you think? Which size would be less ridiculous? Am I crazy to order these at all? Will my shoe search ever end?
* all photos by me.