When we left off
, I was bemoaning the lack of burgundy shoes in the world. I was getting desperate.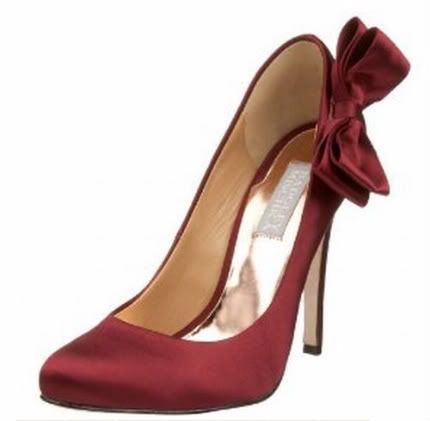 source.
Reader
Stacey Marie
suggested these beautiful
Badgley Mischkas
and I was thrilled. They're not peep toes, but they're absolutely drool-worthy. Unfortunately, after reading some reviews about them being crazy uncomfortable, I went to Macy's to try them on, and sure enough, most. uncomfortable. shoe. ever. Sadly, the heel is so high with no platform to balance it out that I felt like I would fall forward the whole time. Also, my feet started hurting almost instantly. No bueno. Back to square one. Tear.
source.
Enter
Nina Shoes
and their design-your-own shoe option. While this option is pricey and kinda risky (twice as much just to pick a different color for the same shoe!? Oh, and there are absolutely NO RETURNS!? AHH!), the Electra (above) was one of the DYO options, and their wine color was almost a
perfect
good enough match with our bridesmaid dresses. Looks like I've found a shoe.
However, since I had absolutely no idea what size I might want or if the shoe even fit me right, I decided I needed to order the standard Electra shoes in various sizes before I jumped in and designed my own. So, I went back to
Zappos.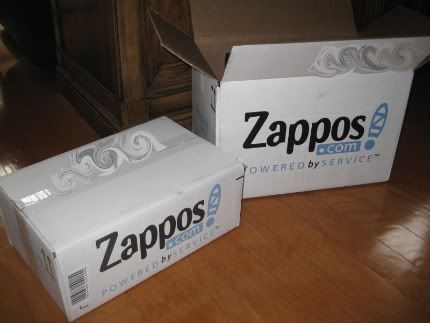 personal photo.
Side note: I feel kinda guilty for using Zappos like this. I've purchased three pairs of shoes from them now with the immediate and full intent on returning them for free while they're upgrading me to super next-day shipping and being overly awesome. If any shoes you are considering buying are on Zappos, get them from there - help support them and maybe I'll feel less guilty. Thanks!
Anyway, I ordered the shoes in a 7 1/2 and an 8. Did either of them fit? Would I be able to design my shoes and be done with it? Stay tuned while my ridiculous shoe saga continues.
Did you have a hard time finding shoes?