As I've mentioned, there are many
wedding traditions
that we're questioning or doing without. One tradition that I have decided to keep for the symbolism and really just for the fun of it is the "something" tradition - something old, something new, something borrowed, and something blue. My choices so far have kinda fallen into my lap, and I love them.
I haven't officially decided on my somethings old and new (although there are many new things I will be wearing), so I'm skipping to borrowed and blue for now.
Something borrowed...
My maternal grandmother died when my mom was only 24 years old, so I never knew her. She gave both of her daughters garnet necklaces before she died. The necklace shown above, in sterling silver, is my mother's. My aunt's necklace is actually a garnet set in gold and matches
my ring
perfectly. I asked my aunt to let me borrow the necklace and she gladly agreed. I love that I get to wear a necklace that's so special - honoring my grandmother and my aunt, adding even more garnet to symbolize my ring and it's symbol of guidance and protection, etc - without overwhelming my dress with too much accessory.
Something blue...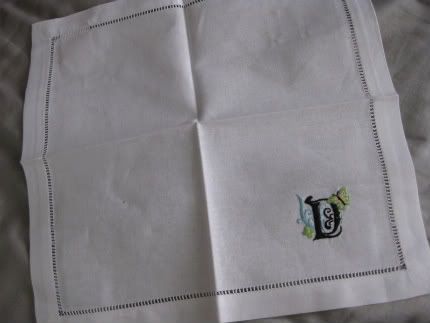 I found this monogrammed handkerchief on sale at Anthropologie. Take a close look - what letter(s) is/are monogrammed there? It's supposed to be a D, but there is no way you can tell me there's not also an L in there. I compared it to other "D" hankies and this one seriously had a mis-stitch or something because there wasn't another like it. Well, seeing as David's and my initials are L and D and the stitching was in blue, I was sold. Clearly it was meant to be mine - and for only $3.95! I plan on stuffing this baby into my bouquet handle or possibly tucking it away in my dress somewhere.
What are you using / did you use for your somethings?
* all images by me.