I'm sure some of you have heard of Tom's Shoes, but for those who haven't, here's their movement in their own words:
In 2006 an American traveler, Blake Mycoskie, befriended children in Argentina and found they had no shoes to protect their feet. Wanting to help, he created TOMS Shoes, a company that would match every pair of shoes purchased with a pair of new shoes given to a child in need. One for One. Blake returned to Argentina with a group of family, friends and staff later that year with 10,000 pairs of shoes made possible by caring TOMS customers.

Since our beginning, TOMS has given over 400,000 pairs of shoes to children in need through the One for One model.

Our ongoing community events and Shoe Drop Tours allow TOMS supporters and enthusiasts to be part of our One for One movement. Join us.

as quoted from Tom's shoes' website.
Sounds great, right? Well, what does this have to do with weddings? Well, Tom's Shoes has a special collection of
wedding styles
. In fact, if you outfit your entire bridal party in Tom's shoes you can not only provide shoes for multiple needy children, but Tom's will give you a special deal. Unfortunately, it's to late for us to change our shoe style completely, but this is a great option for any of you who are looking to give back during your wedding.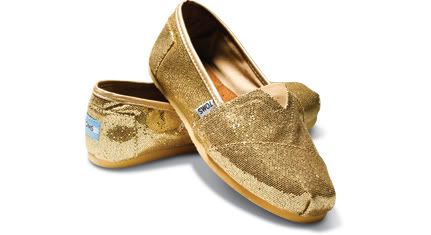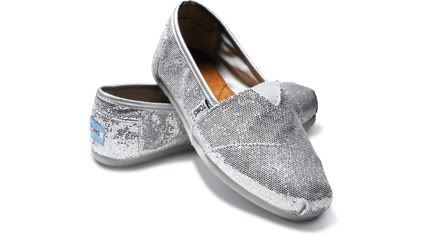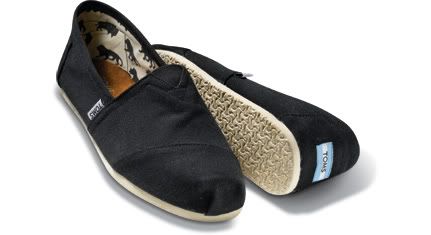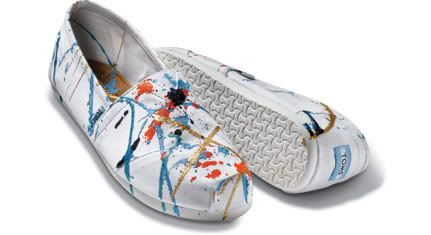 source.
The first two pairs (ooh, sparkly!) are some of the special wedding shoes available for women and the second two are for men. I think the colored pair would look great on a groom whose bride is wearing colored shoes.
We have some other ways in mind to give back to people in need within the process of this wedding (stay tuned!), but I think this route is another pretty awesome way to do it.