Okay, so I know we all loved some of the options I posted of potential
tiered cakes
, but we have officially decided to go through with the
cake buffet
option.
I did some number crunching one boring day at work and figured out that it would cost almost the exact same amount to get a three tier cake with a 10 in, 8 in, and 6 in cake with four pies as it would to get three separate 8 in cakes and five pies. These options would also both serve roughly the same amount of people - with the separate cakes feeding a few more for a few dollars less. Both seemed like great choices, but after talking it out with David, we decided to go with the three cakes/five pies.
This option seemed best because:
[1] With both ways, we won't have enough cake to serve everyone; but along with the pie, we will have more than enough dessert. We worried that having a fancy tiered
wedding cake
would draw attention away from the pies and that we would end up not having enough cake.
[2] It's a more unique and "us" choice.
[3] David really loves the buffet idea and thinks our guests will be really impressed with having an array of choices.
[4] We won't have to worry about what flavors go in the bigger or smaller tiers - each cake is the same size. Plus, we will be able to have chocolate and vanilla cakes with all different icings instead of having it all be one matching cake.
[5] It was our original plan and I would hate to be swayed by the baker and later regret it.
So anyway, a cake and buffet it is! Imagine it as a mixture between these two pictures: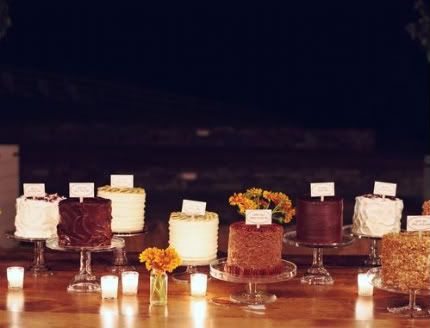 source.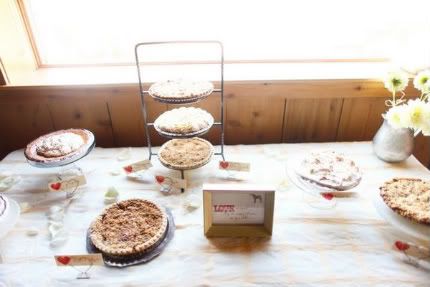 source.
with a little lace and map/travel love thrown in, of course!
I'm really excited about the display now, and can't wait to see it all in action. I can't wait to taste the wonders either, we've been thinking about flavors - we think we're decided on the following...
vanilla torte with raspberry preserves and custard with chocolate mousse covered in buttercream
vanilla torte with lemon creme and custard covered in cream cheese icing
chocolate torte with hazelnut creme and chocolate mousse covered in chocolate ganache
and
two apple pies, an apple blackberry pie, and two chocolate creme pies
What do you think?