We've been getting about 2-3 RSVP cards back every other day or so - I really look forward to checking the mail each day. Yesterday, 2 out of the 3 I received looked like this: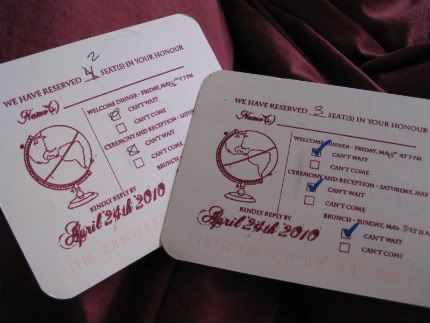 Oh yay! These people will be coming to all three of our events - it will be so exciting to see them... wait, who are we seeing there again...?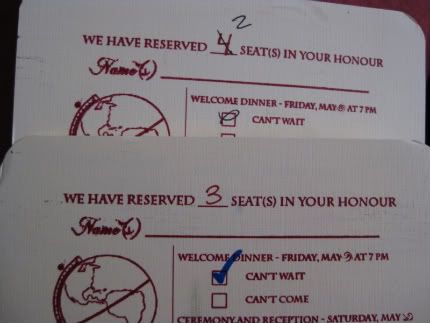 Oh no, there are no names written on these cards! We know that
someone
(a group of two and another group of three, actually) will be attending our wedding, rehearsal dinner, and brunch, but we have no idea
who
. Makes the idea of an RSVP card a bit less useful with no names, doesn't it?
Well, I've heard so many warnings, stories, and solutions to the no name on a returned RSVP debacle, and I'm here to tell you -
this will happen to you
. In our case, we asked our guests to fill in a lot of information on these little cards, I guess I can see how one line may have been missed. And really, let's be honest, our font isn't the easiest thing to read, so if the part that said "Name(s)" was missed, the line that followed could have just looked like a dividing line... right? Well, anyway, excuses or none, this is a really common occurrence in the wedding world, so it's always best to be prepared.
I've seen some pretty awesome invites with super secret spy tactics where the couple wrote in number hints in
invisible ink
to be revealed only with a black light. I, however, went a slightly simpler route.
See the little four? I had a fine point sharpie that matched our gocco ink exactly (which I bought to fix another mistake which I'll be blogging about shortly), and since the globe image is already so splotchy, I figured nobody would notice a tiny little number among the splatter. My maid of honor noticed her number, actually, but she thought I had somehow printed them on with the image itself and was amazed at my powerful gocco skills. Anyway, the numbers coincide with the order our guests are listed on my handy excel spreadsheet (which also lists addresses, number invited, number RSVPd, gift received, and whether or not I've sent a thank you note). Our guests aren't listed in any preferential or even sensical order whatsoever (really - my maid of honor who is also
family
is number 51.) So, even if anyone sees the number they probably won't even know what it's for, and it definitely won't give away any notions toward my "favorites".
So yes, as soon as I received the nameless cards, I promptly opened my spreadsheet, matched the numbers, and viola! - those guests are no longer nameless.
Have you gotten any nameless RSVPs yet? How did you figure out the sender? If you haven't sent your invitations yet, how might you solve this potential problem? Have you got any other great confusion control tips?