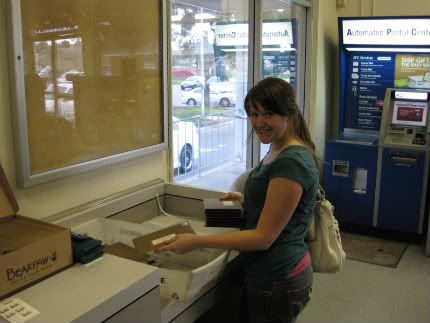 Yesterday afternoon, my dad and I trekked to the local post office to stamp and send out my pride and joy, the bane of my past few months, the product of hours and hours, days and days of hard work.
Ah yes, our invitations have left the nest. They're now venturing off on their own - each traveling one by one to reach their new homes. Mama's so proud. Ahem. Okay, anyway, they're on their way, and as soon as I hear back from some guests who may also be readers of this here blog that they've received theirs, I can show them off to you all. Until then, let's explore the envelopes, shall we?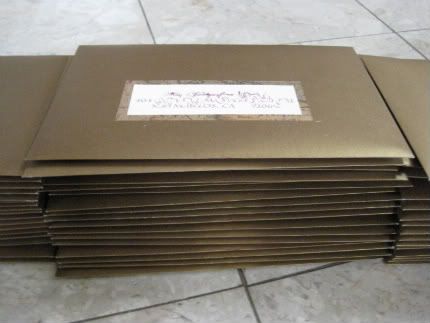 I'll bet the overall effect and aesthetic of the envelopes could have been much better if I'd been willing to put more time and creativity in, but after designing, printing, and assembling the actual invitations, I was ready to just get everything over and done with.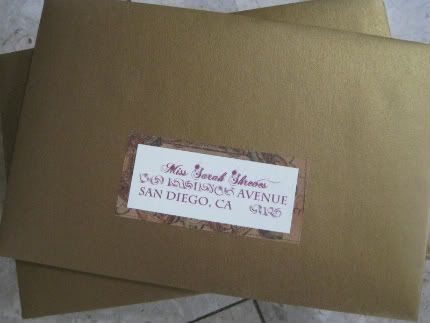 I used the same address labels as our
save the dates
, took out the wrap-around aspect with the globe, and pasted it on top of some of the map paper that we has previously used for envelope liners.
Ahem. Yes, I used labels for my wedding invitations. I also had no inner envelope. And guess what? I don't care. They still look personalized, fancy, and wedding-ish. People will know who's invited and whatnot. The world is still revolving on it's axis. Thank you.
The goccoed return address on the back was kind of an afterthought. I knew we needed to include the return address, but didn't give it much thought. I had some extra space on a gocco screen I was burning, so I threw this in. The burgundy ink looked really great on the gold paper when it was first printed, but it didn't dry all that nicely. Oh well, it's still legible and adds a nice touch to the back.
And that's that. My blood, sweat, and tears (pretty much) will now be mixed in with everyone's daily mail until they arrive at our guests' homes. I wish them a safe journey and can't wait to start getting RSVP cards back.
Was making, picking, or assembling invitations more work than you expected? Did you get lazy toward the end like me?
*all images personal photos by me or my dad.