I've shown you our
rough draft
,
envelopes
, and even
teased
a little, but now I am starting to get feedback that people have been receiving our invitations. You know what that means? I get to show them off to all of you!
Upon hearing feedback from quite a few guests, near and far, that their invitation has arrived in the mail, I raced out into the sunny morning for a little photo shoot. I probably should have waited until the sun was a bit less direct, and a got a soggy bottom from sitting in the wet grass, but I just couldn't wait. So, without further ado, here are our invitations: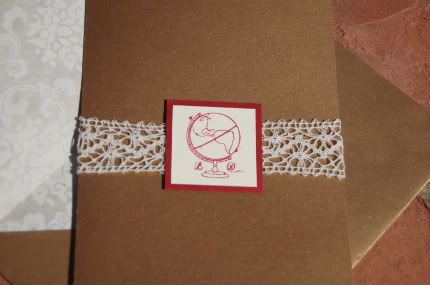 The lace belly bands and monogram globe squares are one of my favorite parts of the whole lot. I love that our guests get a clear vision of us and our theme right off the bat. Thanks again to my wonderful maid of honor who designed the globe. She probably didn't realize I'd be using it
everywhere
, but I can't help it - I love it. She's amazing.
The direct sun really helps show off the shine of the stardream paper.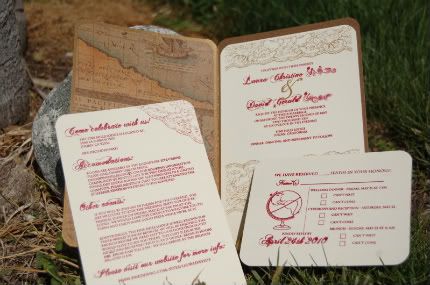 Once you slide off the belly band, the card folds open like a book to reveal the following: another use of our trusty map wrapping paper on one side and the invitation on the other, a two-sided rsvp postcard, and the information card.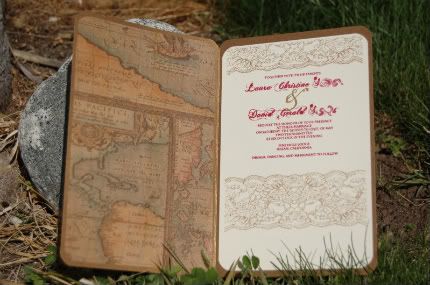 Honestly, that wrapping paper (bought at a map store in Phoenix, Arizona) is probably the best wedding purchase I've made. I originally planned on using it in our centerpieces, but it's done well in all of our
paper
products
.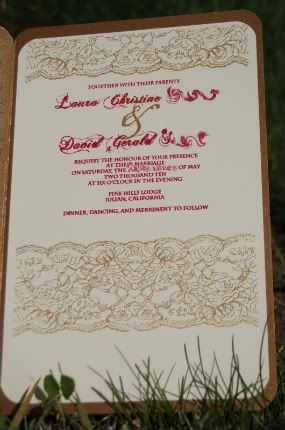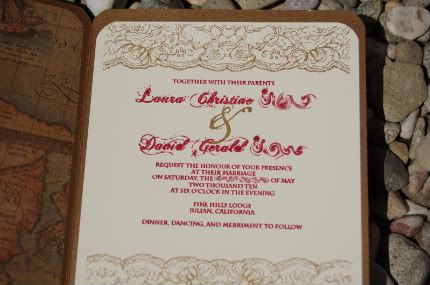 I love that ampersand between our names. I give it full credit for solving the great
wording
debate.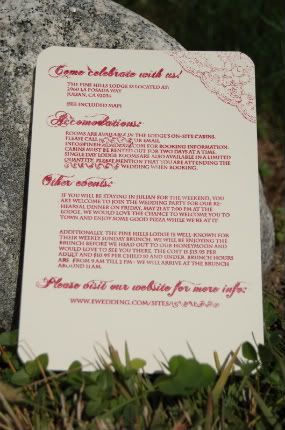 This info card took the most work and stress out of the whole suite. I like how it looks with the rest of the invitation, but I really wish I could just count on people utilizing our website to gather this kind of information.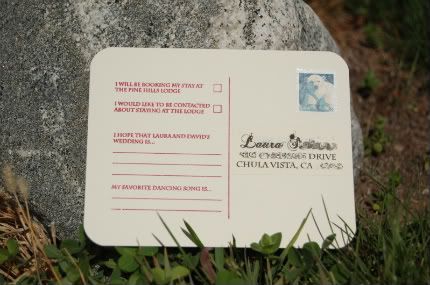 I was worried about including so much information on our rsvp cards, but I love the way they turned out. I just hope they're clear to our guests and that I get to see them coming back to me very soon.
And, there you have it. I'm in an okay place with these now that they're assembled and sent, but let me tell you - making your own invitations comes along with a whole lot of stress and drama. I'll recount some of the pain, mistakes, and craziness that came along with this project later, but for now, I'd like to stay in this happy place a little longer.
What do you think?