We're officially legal to get married within the next 90 days in the state of California! It only took us a few unsuccessful tries first.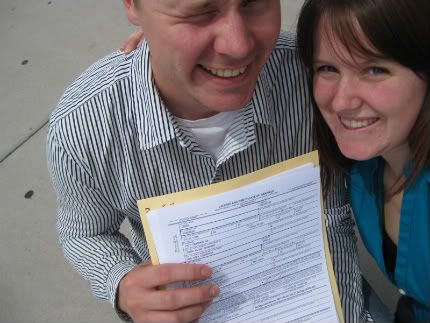 don't mind the squinty/closed eyes. The sun was bright out!
You see, the county clerk offices are only open on weekdays from 8-4. Since David and I both work jobs with hourly schedules that change every week, it is very rare for us to have a weekday off in common - and we don't know about it until the last minute. The San Diego county clerk offices (the
"Assessor, Recorder, County Clerk"
offices provide marriage licenses in San Diego county - not just any city courthouse like I've heard is the case in other states/counties) require an appointment for distributing a marriage license, so advance notice was preferable but very difficult.
[try #1] David and I both had Good Friday off, and it was the first mutual weekday we'd had off in awhile, so we decided to get our marriage certificate then. I didn't find out that they required appointments until that morning, and when I called, the lady baically laughed in my face. Apparently Fridays are already particularly busy days for them, and since it was a holiday and the beginning of the month (when many people are paid and have more spending money, apparently), they were booked solid. After explaining our tricky work schedules, the woman basically told us our only hope was to get a
confidential marriage license
which we could do through mail with a notary. No thank you.
[try #2] Thanks to my dwindling work schedule (I actually only have two days left at my current job), I have had the past few days off. We found out on Sunday that David and I had a day in common, so I jumped on scheduling an appointment. Thursdays, it turns out, are much less busy than first of the month, holiday Fridays, so we had our pick of many times in the day. We were ready.
Flash forward to the day of our appointment - I'm never one to get directions anywhere until the last minute as we're headed out the door. When it came time to leave, the county clerk's website was down, so I just got an adress from Google maps, and we were on our way. Well, Gmaps sent us to a location that no longer houses the county clerk offices. Thankfully, some nice people noticed our confused looks, and they sent us down the street to the "new" location. So, we arrive and apparently that location has been closed to the public since June 2009 due to budget cuts.
note to San Diego brides: the Chula Vista and Kearny Mesa offices are closed to the public. Do not be fooled by Google maps!
Great. It seemed like
someone
didn't want us to get married.
[try #3] So, we made a call to say we were running late and hurried off towards the real offices. We arrive 30 minutes after our appointment, but it didn't seem to be much of a problem. We were given a quick application to fill out - asking us our full birth names, birth date and location, parents full birth names and birth state, any previous marriages, and any potential name changes after our marriage - the latter part is due to California's
Name Equality Act
made active since 2009. Basically it gives both parties the right to change their name to any name given to either party at birth. So, unless we were somehow coming up with a new last name all together, it supposedly makes the name changing process easier, and technically makes the whole thing more "equal" by giving David just as much right to take my name as I have to take his.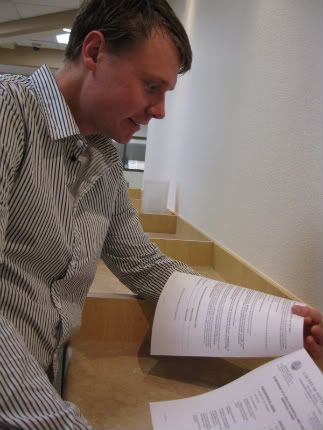 David filled out most of the application (Isn't he cute?), stopping only at the point of listing my parents' birth information and address.
After finishing the application, we were told to sit and wait. We didn't wait long - just as soon as we sat, we were called to a cubicle where a woman asked for our driver's licenses, copied our information into the computer, printed the license to have us check the info, asked for a signature, and handed over our license. Easy as that. In fact, since we signed in the office, we do not need to sign anything else on our wedding day. We need a signature from our officiant and one to two witnesses, but other than that, we're done. I was kinda disappointed that we don't sign on our wedding day - I guess I had sort of romanticized the legal process of the wedding and wanted to make that part somewhat ceremonious - maybe we'll have to get some kind of
Ketubah
.
So, that's it - the third time's a charm! I feel a bit guilty for how easy it was after reading about the difficulties of international couples and other such processes.

and of course, we did the requisite task of asking a stranger to take our photo outside the building with the license in hand.
Did you have a few failed attempts at getting your marriage license, or was it smooth sailing from the beginning?