Since our wedding is almost a destination wedding, we have invited all of our guests to be involved with the whole weekend's events. In addition to the wedding ceremony and reception, guests have been invited to the rehearsal/welcome dinner the night before and the brunch (taken care of completely by the lodge) the morning after. So far, about 30 guests are taking us up on this offer.
Since we're feeding more than the normal wedding party and immediate family for our rehearsal dinner (which, while right after the rehearsal, is being called a "Welcome Dinner" since some guests will attend only the dinner, not the rehearsal), we aren't able to book any kind of formal dinner. The plan? Pizza!
Just down the road from our venue, there happens to be the cutest little pizza place, called
Wynola Pizza Express
.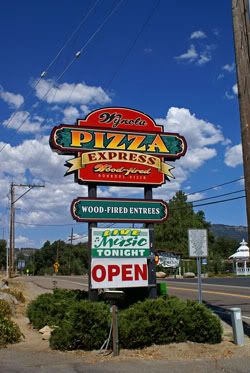 David and I stopped by for a bite for lunch on our way to a venue meeting and cake tasting and just loved the place. An impromptu meeting with their catering guy left us walking away with a quote of $10.95 per person for salad, soft drinks, and all the wonderful woodfired pizza we can eat!

all photos from Wynola's site.
I've let David in charge of communicating with Wynola and choosing the menu, and I can't wait for this pre-wedding party with so many good friends! I just wish all of our guests could come.
Which rehearsal dinner boat are you in - formal and intimate or casual and inclusive?