The great thing about
The Pine Hills Lodge
is that it's small and they require that you book for the whole weekend. That all means that we essentially had the entire place to ourselves all weekend. Technically there was a random couple staying in the one cabin that none of our guests booked, but after I saw them come check in, they were never to be seen again. We were able to set almost everything up on Friday, making Saturday a possibility. (Honestly, I don't know how brides can swing the whole one hour before the wedding to set up thing. Lots of help, that's for sure.)
So, we checked in, unloaded my dress, many sleeping bags and air mattresses, and personal bags into the cabins, and started bringing loads of the wedding stuff I'd been making and hoarding for over a year into the lodge. More friends and family started arriving (these are some early birds, yo! The groom hadn't even arrived yet), and I greeted them while attempting to organize all the stuff being brought in.
My sisters rocked the table settings while I assembled the cake table and postcard guestbook.

I can't wait until I get professional photos of all these details - but here's an idea of the setup.
I honestly can't say it enough how grateful I am for all the friends and family who helped me at the lodge. I was able to leave big projects to some friends and move on to the next with no worries. In fact, when it was all said and done,
so many
details were removed from my control, and it all turned out
wonderfully
.
Once most of the set-up was finished, I tackled the flowers to make bouquets. The roses had gotten HUGE from the sunlight and heat of being in the car, but thankfully, most of the brown was gone. The oriental lilies were still not opened up, and few of the calas were useable, but I worked with what I could.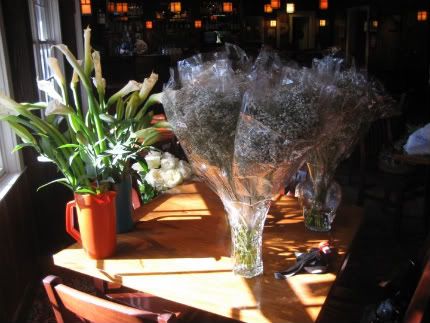 don't you love our assortment of vases? Juice pitchers for the win!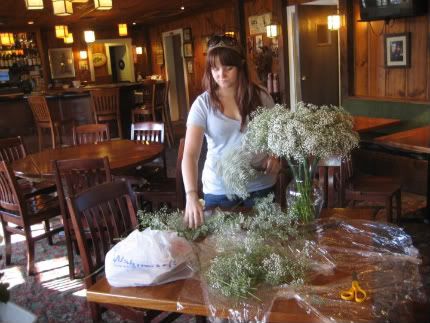 The baby's breath was first - I formed it, trimmed it, and threw it all over the room. And then I somehow ended up with five bridesmaids' bouquets. They were wrapped in floral tape and put back in a vase - I wrapped them in ribbon and trimmed the ends on Saturday morning.
My bouquet was a bit more complicated. I had mostly roses to work with and their stems are
tough
to cut. Also, who knew that cala lilies' stems were so dang
thick
? BM J helped me hold the flowers still while I wrapped them, and I ended up with a mediocre DIY bouquet - which was quite alright with me.
David and his family arrived at some point and started loading their own cabins. I greeted more people, joked around with friends, and fluttered around doing some more preparation, and soon enough it was time to rehearse!
*once again, all photos are by my hero, wedding lifesaver, college friend M.