I woke up pretty early on Friday morning - in fact, I think my body trained myself to get by with only one cycle of sleep (4 hours), and I was wide awake after that every morning of the wedding weekend. A blessing and a curse, I tell ya. So, I woke up much earlier than any of the many other people camping around the house, giving me some much appreciated quiet time to reflect and prepare for the day. I tiptoed over sleeping friends, padded down the stairs, and sat down to write
this post
, which really only hints at the unbelievable calm I had suddenly been gifted with which lasted me throughout the weekend. Really, within this day and the next, there would be many times when I would normally snap at someone, break down, or yell (or at the least show some impatience), but I was blessed with this uncanny ability to stay calm, take it all in stride, speak in calm, kind tones, and smile. My mom turned to my sisters at one point and said, "Have you ever seen Laura this calm?
Ever
!?"
But yes, the flowers. My dad came in soon after I finished my post and I immediately sent him to the FedEx holding facility where I was told my flowers were being held. Since they were supposed to be delivered
the day before
, I was a little worried about their condition, being out of water all night - but, I kept calm and optimistic.
Once people started waking, I was encouraged to work some more on perfecting the dance playlist. It turned out that many of the songs my friends had suggested to me could be found on my sisters' computer, so I stuck a few on my thumb drive and moved them on over to my playlist. I burned cds and updated two iPods for backup and the music was ready to go.
Then, the flowers arrived - looking like this: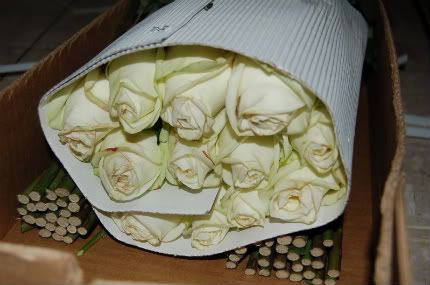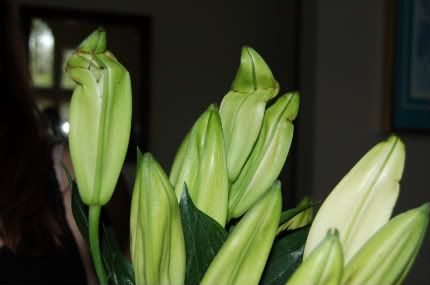 The roses were brown (even more than the picture shows), the oriental lilies were bent and brown, the callas were squished, and their stems looked like old, dry celery.
I, with my state of miraculous calm, proceeded to trim stems and get the best-looking flowers to water. My cousin, on the other hand, would not let this pass by. She called up Costco customer service and demanded a full refund. I was feeling really guilty about this at first - the baby's breath looked fine, after all - but, with a service that absolutely guarantees delivery on or before your set delivery date as well as absolute satisfaction, they probably should have been refunded just for being late. So, we proceeded with the day - this time with bucketloads of free flowers.
About halfway through trimming the flowers, we ran out of vases. My sisters made an emergency trip to Wal-Mart to pick some more up while my cousin and friends made a trip to Trader Joes for some bridal suite day-of treats. This was not a trip I had even thought of, and I was ever-grateful for the juice, champagne, and carrot cake muffins they purchased.
By the time we were done getting all the flowers in water, it was past time to go. After all, the
original plan
didn't have us doing much of anything at the house before leaving:
Friday: leave early to arrive at venue for set-up, rehearsal at 6:00 pm, and dinner at 7:00 - and so the wedding weekend begins.
Ha! I apparently assumed we would have already had everything packed up at this point, too. Not so, my friends. The garage still looked like this:
which my dad very quickly and amazingly turned into this:
I rushed around to pack up my bags of personal belongings - for the day, the next morning, and the wedding night. College friend M helped and watched the whole time which became a major lifesaver throughout the weekend - she literally knew where
everything
was. at. all. times. She was seriously the best bridal helper I never would have thought I needed. Honestly, if you brides-to-be can have an attendant pack things with you and pay attention to where everything ends up, it will save your life.
We then hit the road - my sisters driving the big car with all the stuff, and college friend M and I in my car. We made a quick pit stop to pick up my freshly bustled and pressed dress (!!!), got some snacks for the road, and we were finally en route to Julian.
* all photos in this post were taken by yours truly.