I had not planned anything out for our rehearsal. I knew there was going to be one, and at what time it would be. I had also communicated said time to our wedding party and families. I had not, however, given an ounce of thought to what we would do once we got to said time and place. I guess I kinda assumed that was our officiant's job - and he assumed it was mine. No worries, though, we had talked out the ceremony details at a meeting days before, so we got things figured out pretty quickly.
Everyone stood around for a bit while we got things in order. Doesn't my momma look excited? Note the few chairs: the lodge set up a few chairs for us to be able to picture the aisle and space, but they wouldn't set up the rest until the next day.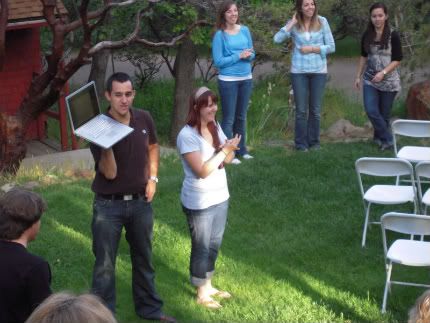 I gave directions while one of my best high school friends, who became our impromptu dee-jay, got familiar with the ceremony playlist I'd created.
Our procession order was to be as follows:
David walks his parents to their seat and takes his place in front.
groomsmen walk with bridesmaids one-by-one and take their places.
I walk with both of my parents, my mom takes her spot in the front row, and my dad "gives me away".
I loved that I got to honor both my parents while still staying traditional enough so as to not offend my dad.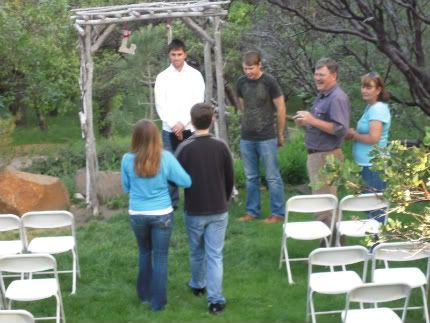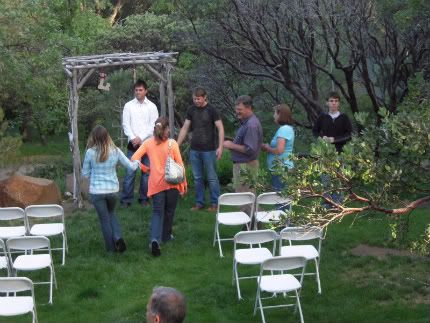 we were missing one groomsman, so my cousin stood in his place.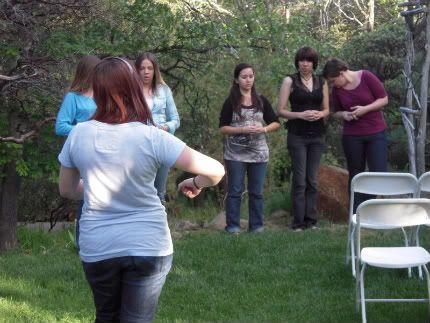 I think this was me showing my bridesmaids how
not
to hold their bouquets. Don't they look great with their lovely, invisible bouquets?
My parents and I looked down the aisle that
would soon
should have been (I'll get to that) the very one I would walk down only 24 hours later to marry my love.
My dad looks worried here. We were probably working through the logistics of linking arms with both parents while holding my bouquet.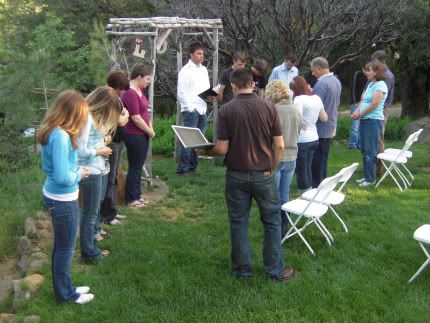 We made it to the end of the aisle, and my daddy held on to me as our pastor/officiant got to the point of the ceremony where he would say a prayer for our union. He decided to take that moment to say an actual prayer - for the evening, for the following day, and for our lives being joined together - which added a special time to our rehearsal.
And then there we were, standing in the place where we
would soon
should have gotten married the next day. (And I apparently did some crazy twist / hair flip.)
Okay, so what you don't see in these pictures is how freezing we were. It was the exact same time in the evening as we were to be married the next day, and it. was. cold. Many wondered aloud if it would be too cold to have the wedding there, but I (in my insane sense of calm) pushed it aside and didn't worry about it. There was, after all, a back-up plan available...
So, we rehearsed, and then it was time for some pizza!