Well, hello there! Remember me? My computer is finally back home looking all bright and shiny, and I'm ready to get back to re-capping the week of the wedding. When we
left off
, people were arriving, I'd finally gotten the rings back, friends were helping me re-vamp our song list, the flowers were MIA, and it was time to get ready for some partying - bachelorette style!
Bridesmaid B and MOH S had planned the evening for me - all I knew was that I was supposed to meet them at the
Old Spaghetti Factory
in downtown San Diego's Gaslamp District. Since most of the guests of the event were already at my parent's house, we all got ready to go and drove together. After snapping a few photos on the way out, of course: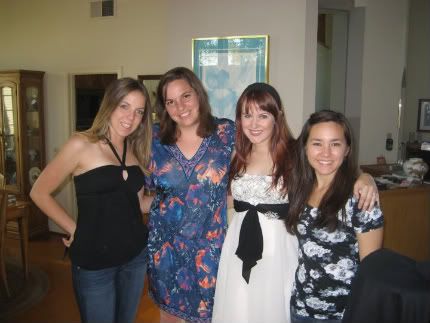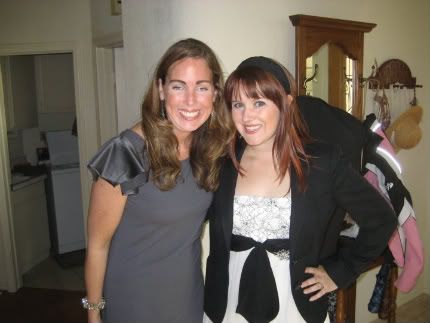 Once we got there, we, of course, had to take some more pictures.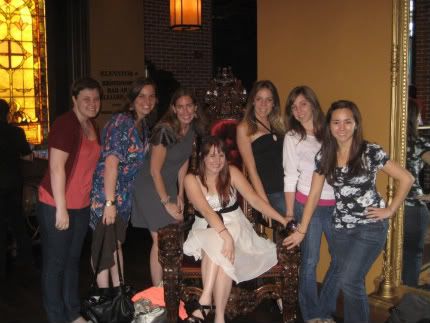 As you can see, I was a tad over-dressed among my ladies, but I had purchased that BCBG dress on sale over a year ago with the hopes of wearing it to a wedding event. Besides, I was the bride, all's well, right?
I love Spaghetti with mizithra cheese and browned butter from the Old Spaghetti Factory. Add that to so many lovely ladies whom I love, a bottle of vino, and some awesome cheese bread, and I was a happy girl.
The rest of the plans for the night were revealed - we would be sent on an amazing race-style scavenger hunt throughout town. BM B and MOH S know that driving around town with friends is one of my favorite things, I love me a good scavenger hunt, and they found a way to incorporate many great places and fun memories into one night - good job, ladies. :)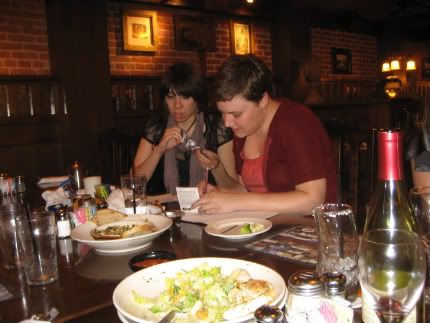 BM B and MOH S worked out some final clues at dinner while the rest of us ordered another round of drinks and finished off our spumoni. Soon it was time for a final group photo and to head on out for the hunt!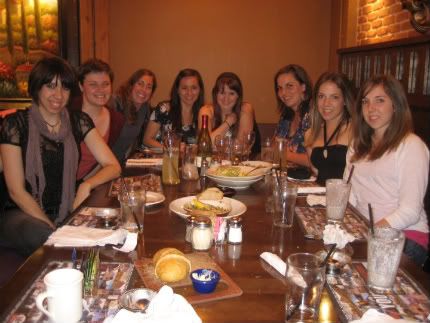 from left to right: BM B, MOH S, Cousin D, BM J, me, college friend M, and my sisters (and BMs) L and S.
The clues for the hunt were witty poems that included memories and inside jokes that only I and a few others would know. As soon as I figured out the next location, we would head out to meet B or S for the next clue. I got to share the stories behind each clue to the other girls while we drove. It meant so much to me that my girls created something so specific to me.
I did a lot of driving early in the night, but after some drinks at dinner, my sister was kind enough to take the wheel and make me the navigator. We went to about five or six locations in all on the hunt.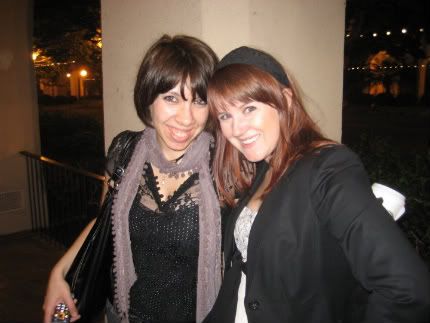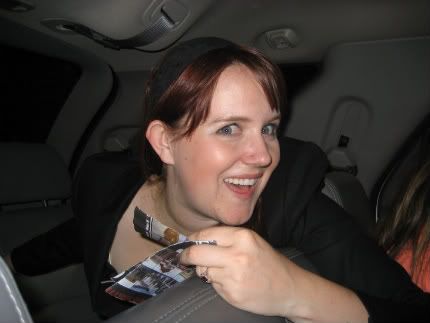 I'm holding the clues in the photo above. M made sure to hang on to all of them for me for safe keeping through the night, but I'm not sure what happened to them. If I find them, I may type some of the clues out on here - they were pretty awesome little poems.
The very last clue brought us to a great little all-night coffee shop that my friends and I love hanging out at. I'm sure the orignal plan was to stay there awhile, but it was packed with people, so we decided to head down to a local pub instead. My sisters and BM J decided to use that time to call it a night, and the rest of us went and had one more drink before heading home.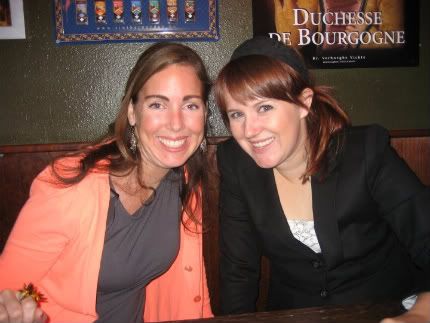 I got a text message from David - he was finally back in San Diego. Relieved to have him nearby again, I told him we were at his favorite pub sipping one of his favorite beers. "Are you having MY Bachelor party?" he texted back. We certainly weren't having a typical Bachelorette party, after all, and that was perfectly okay with me. We headed back to my parents' house and called it a night - tomorrow was the day before my wedding!
* all photos by college friend M.
Note: we used this night as a test for my wedding day makeup, but I was not satisfied with the result. My actual wedding makeup look was much more natural than this.