By Thursday, we had entered full-blown wedding weekend craziness. Surprisingly enough, though, it was the day that stuck most closely to the
plan
. (In that there were more scheduled things that had to get done - you'd better bet there were tons more things added though.)
Thursday: Pick up a good friend from the airport, take dear friend to the beach "because her toes need sand", get home to await flower delivery, mom picks up aunt and cousin from airport (and brings them to the beach), arrange flowers and pack them in water for trip, commission someone to pick up the groomsmen's rental shirts, Bachelorette celebrations at 4:00pm - well into the night. David gets back around 10 pm.
As soon as I woke up in the morning, the flower drama began. It started out great - a phone call from FedEx informed us that our delivery would be arriving sometime that morning before 10:30 am. Great. I ate breakfast and started getting ready for the day. Soon enough, the doorbell rings, and a box of these was handed over to me:
Source - Costco.com
That's right - a box -
one, single box
- of baby's breath... we had ordered three
plus
a box of mixed flowers. I went back to my tracking e-mails and saw that I had only been given two tracking numbers - one for baby's breath, and one for mixed flowers. Where the heck were the other two boxes of baby's breath?
A call to FedEx customer service informed me that there were three more boxes (check! That's everything) being held at the San Diego sorting facility, that I
should
get them by tomorrow morning, and that they would make a note that we would like to go pick them up if possible. Um yeah, my options were to leave my boxes of flowers - extremely perishable,
please place in water as soon as you receive them
, flowers - in some warehouse all night and
hopefully
get them before we had to leave the next day, or I would have to go pick them up myself among all the many things planned for the day. I thanked the woman, and she told me that if I didn't get a call back from the San Diego facility within the hour about the pick-up, I should call customer service again.
Meanwhile, my sisters helped me cut the stems of the one box of flowers we'd received, and place them in water. We quickly realized that we would soon run out of vases and made plans for a Wal-Mart run to get more.
An hour passed and no word from FedEx. I called customer service again, and this time I was told that there were delays at the warehouse, my boxes had not yet been sorted, and I would not be able to pick them up that day. They said they would make sure they were ready for pick-up tomorrow. So now we had to wait until the last minute and pick them up ourselves - at least we knew we'd get them. I quickly tried to put the flowers out of my mind for the time being, and headed off to the airport to pick up a friend from college.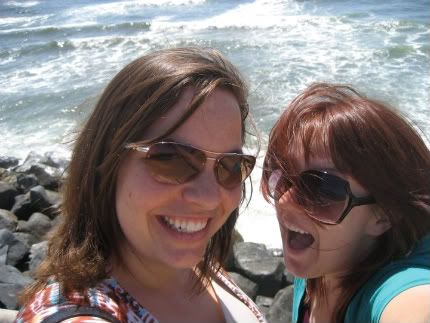 personal photo.
After taking her to see the ocean after being land-locked all year, we got some chick-fil-a, and headed off to pick up the rings. We had a moment of slight panic trying to contact David so Margaret could check my engraving - which I still had not seen - when the jewelers reminded us that they had it written down on the order form. The engravings checked out and we headed out - finally with the rings in hand.
By the time we got back to my parent's house, my mom had picked up my aunt, cousin, and cousin's son, so there were hellos and hugs all around. It was at this time that I realized I had not yet gotten a manicure/pedicure nor would I find the time to do so, so my friend began painting my toenails for me as I looked over our playlists and began uploading them to my iPod as backup. My friend and cousin both suggested that I did not have enough songs to appeal to all kinds of people, and they began making a list of some that I should download/import. We worked on songs for awhile and began thinking about using my upcoming Bachelorette party as a makeup trial. My room was littered with makeup, blank cds, iPods, and more as we enjoyed our time together and planned out all the last-minute work that needed to be done before we left for Julian the next day.
Up next - my bachelorette shindig and the craziness of the day before the wedding!