Tuesday also proved to be a bit crazier than my original
plan
. This was mostly because I forgot to include everything else in my life that needed to be worked on that wasn't directly related to the wedding.
The original plan was as follows:
Tuesday: Take David to the airport at 8 am, back to my parents' house to pack up anything that's completely ready, pick up rings (and take my mom with me so she can check David's engraving on my ring - it's a surprise).
and, as you know from the phone call on
Monday
, I would not be picking up our rings that day. In reality, I woke up and drove David to the airport, and headed home to pack up anything and everything wedding related that had made it's way to my house - I stayed at my parents house completing projects and organizing things from this point forward. While I was home, however, I realized that I had paperwork for my new job to fill out and drop off, checks I needed to deposit at the bank, and some other real-life errands to run.
While running errands, I was continually burdened with my
bustle dilemma
. My mom suggested we find another seamstress who could provide us with an emergency bustle that might work better. I doubted there would be time, but I gave it a shot. After googling bridal alterations in San Diego, I ran across some pretty good yelp reviews for a woman. I gave her a call - here's how it went:
me: "Hi. I'm getting married on Saturday and my dress has no bustle. Is there any way you can squeeze me in for some last-minute work?"
seamstress: "I don't have any free time until tomorrow afternoon..."
me: "Okay great. Just so you know, my dress is a trumpet style silhouette with three tiers of many layers of tulle, so it might be difficult to bustle... the other seamstress seemed to have a problem with it..."
seamstress: "No, it will be fine."
me: "Okay. Thank you."
I hung up the phone relieved but still a little wary. I really had no idea if I would end up with a bustled dress. Only time would tell. (In case you're keeping score, my appointment would add a lot to the plan for Wednesday as well).
Running errands took most of my day, and when I finally made it down to my parents house to work on wedding world, I had much less time than I had anticipated.
I did have time to finish our seating chart, and I'm pretty proud of it: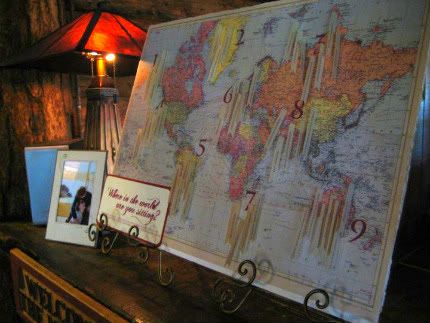 guest photo.
Every guest's name was printed onto a flag which was then pinned onto the map in clusters by certain countries. I used an additinal map to cut out and frame squares of each country to place on it's respective table. When I realized that all of this might get a tad confusing, I added corresponding numbers.

personal photo.
Here's table 9 - Australia. Sorry for the awful picture -I snapped it quickly when everything was getting ready to be loaded up to go. The frames came three in a pack in the dollar section at Target. In hindsight, I wish I spent more time/money on better frames because the glass was not removable on these and they had a glossy white finish. Painting those suckers gold was a nightmare.
Figuring out who would sit at each table took a few tries. I know there are online resources and software that can be used to create seating charts and tabe layouts, but since we had a unique layout with round tables and extra-long banquet tables, and since I'm cheap and was running out of time, I did it the old-fashioned (and fun!) way. I ripped printer paper up into small squares and wrote each guest's name on one. I then laid out three round plates and three rows of paper to represent the tables. Voila! I got to move the little name papers around the tables until I found a place for everyone. The actual seating of everyone changed a bit when we got to the venue and saw the actual table sizes, but since the pins in the chart were moveable, it was an easy fix.

personal photo.
Isn't my ghetto seating layout cute? My dad was nice enough to create an excel document from this display and he copied down every name into place. It was much easier to carry a print-out from excel to the wedding to set-up than this whole plate/paper situation, after all.
While I worked, my mom spent the entire evening scouring every shoe store in town. She finally decided to keep her original shoes anyway.
Tuesday was coming to an end. I had a little more hope in the dress situation, my mom had shoes, and the rings would supposedly be ready in time. My project list was shrinking, and I started getting the finished ones ready to be packed up. I knew the next few days would be wild, but I was ready.