After figuring out my
makeup
, and some other last minute errands, it was time for my appointment with the new seamstress. If you'll
remember
, I was left with no bustle and worries that an attractive bustle would be impossible to do with my dress.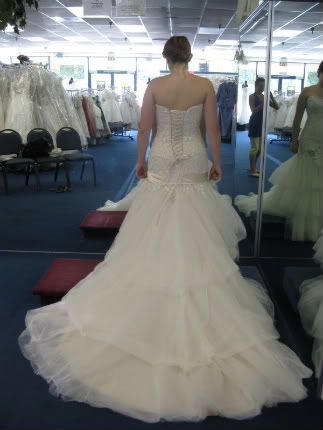 personal photo.
It just seemed impossible to get all of those lovely layers (and SO MUCH tulle!) to do anything but bunch up into an awful explosion. But I was ready to give it one last shot, and my mom, sister, and I headed off to
Rose Anderson Sews Bridal
.
Rose was
amazing
. She brought us right in and immediately got to work. And,
within minutes
, it was as if my train had disappeared. No really, she created an under-bustle for each individual tier in such a way that the top tier laid normally - it looked like the dress wasn't even bustled at all. I'm not one for bustles normally - I just don't like the look of a "bustly" bustle, but I honestly liked my dress
better
after Rose bustled it.
We didn't get any pictures that day in Rose's shop (it's actually a back room in her house - filled to the brim with wedding dresses that she was working on), but here's a sneak of my bustle during our first dance!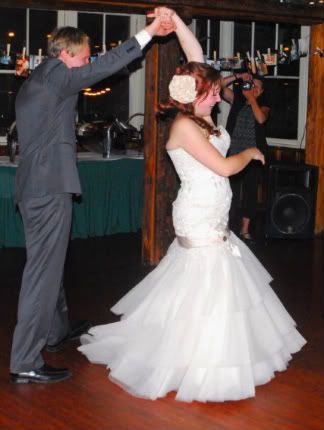 guest photo.
At the wedding, some of our guests came up and asked me if my train had been removable - they just couldn't believe everything was still in there somewhere.
After Rose pinned the bustle to show me, I just about jumped into her arms for joy - I had no idea exactly how stressed I was about the whole bustle ordeal until I felt the immense relief when my dress was in Rose's hands. My mom and sister took some mental notes on how to duplicate the process, and we left my dress with Rose to sew in the hooks. Then, on Friday, my sisters and I then picked up my dress - freshly pressed and ready to go - on our way out to Julian.
Now much more relieved than before, I was ready for the projects of the day. One of my bridesmaids came down and helped me finish cutting the last of my
wine bottles
, another bridesmaid ran down to my parents' house late in the night to pick up her dress, and I went to bed excited to see all the people who would be arriving the next day.