Knowing David was going to be out of town and that most people weren't coming in until Thursday, I had asked my mom early on to take the day off work. After getting closer to the wedding, she worried there wouldn't be enough for her to do and that taking off work wouldn't be worth it.
Wednesday: Two bridesmaids will be in to help me with a full day of finalizing projects. Also, figure out time to get a manicure, pedicure, and possibly do something with my eyebrows.
The original plan put me at home - with help - all day. Well it turns out that those bridesmaids couldn't be available to help until much later in the evening, and there were so many more things to do than what the original plan could have imagined.
First thing in the morning, I started researching make-up possibilities. Figuring out what the heck I would do for makeup was left this late because I was waiting on an RSVP from a former roommate who I hoped would do my makeup for me. She was doing her best to move some things around at work and got back to me really late - she would, unfortunately, not be able to make it to the wedding. So, three days before the wedding, I figured I had better learn how to put on makeup. (Note: other than the pencil eyeliner and mascara that I put on occasionally, I pretty much go makeup free the majority of the time.)
I remembered some posts by
Miss Rainbow
on
Weddingbee
, so I clicked on over. Life. Saver.
I followed her "signature cocktail" for
foundation
exactly, got some blush and brush tips from her post on
contouring
, learned how to handle my own
eyebrows
, and re-visited her post on
false lashes
, which had already saved me for our e-pics.
I soaked in her posts, made a list of any and all supplies I may need, and headed off to do some shopping. I grabbed my momma and headed off to split the list between saving at Target and splurging at M.A.C. Once we got to M.A.C., I decided to sign up for a free makeover.
Of course
, the sales lady could show me the technique, I could buy some of the necessities from her, and try to match the rest with Target cheapies. With the eye makeup, the woman even did one eye, and coached me as I did the other to match.
We walked out of M.A.C. with
Studio Fix
Fluid foundadtion,
Blacktrack Fluidline
eyeliner,
brush #210
to apply the eyeliner,
Studio Finish
concealer, and the
Painterly Paint Pot
eyeshadow base, and I looked like this: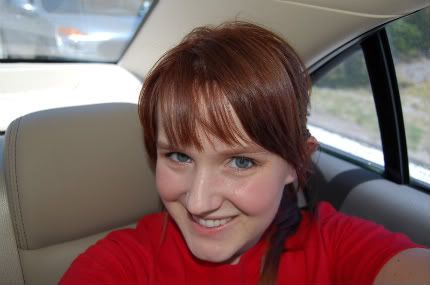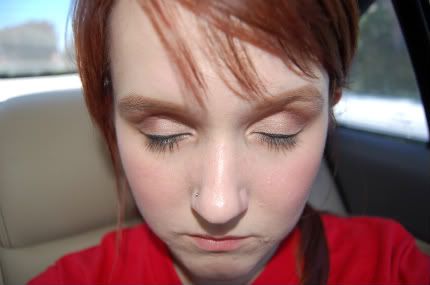 personal photos.
Not bad, right? I was worried that M.A.C. would give me a heavier look like they tend to prefer, but I was pleased with the natural and flattering look here. It lasted
forever
too, so I was ready to comfortably duplicate this for the wedding.
We then headed to Target to finish off our supplies with
Studio Tools wedges
, Studio tools brushes, Physician's Formula
Mineral Wear
loose powder, Maybelline
Expert Wear blush
in gentle rose,
Sonia Kashuk full eyelashes
, a few eyeshadows to match the mac colors, and more.
Armed with my new army of cosmetics, I was ready to try to duplicate the M.A.C. look on my own - and he day had just begun. Stay tuned for the rest of Wednesday as the days of this week got crazier and crazier.