Though there are many ideas about when exactly a woman becomes a bride - the moment she gets engaged, the wedding day itself, the moment she walks down the aisle - the simplest, most obvious moment, I think, that makes someone a bride is the moment she puts on her wedding dress. And boy was I ready for this moment. So ready, in fact, that I didn't wait for my mom or a bridesmaid to bring my dress to me and help me put it on. Nope. I waltzed right on over, grabbed my dress, and put it on myself.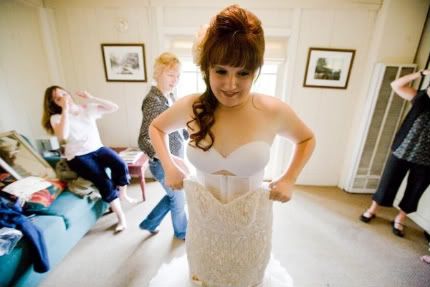 What? I had plenty of experience putting the thing on after alterations and my bustle drama. So, there I stood, waiting to be laced up. The ladies around me made a few jokes about how much of a hurry I was in to get my dress on, and promptly jumped to lacing duty.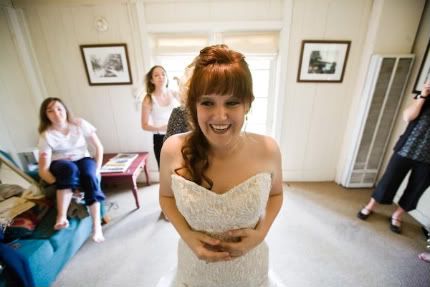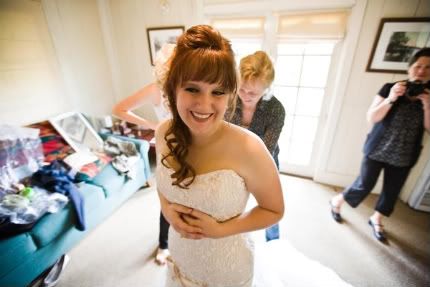 We made sure to lace it tighter than any of the times I'd tried on my dress before. I had to come up with some interesting balancing strategies in order to stay standing while they pulled tight.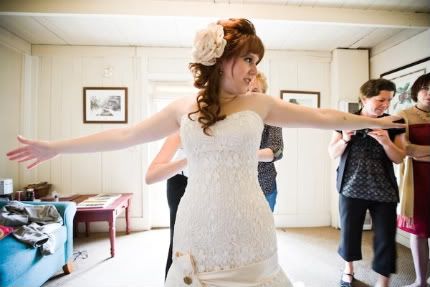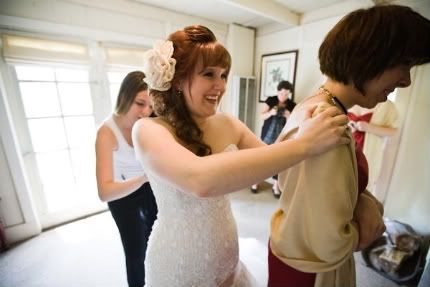 And suddenly, I was a bride. I stood there - another moment where I could do nothing but soak it all in. I was in my wedding dress. I was a bride. I was going to marry my love today.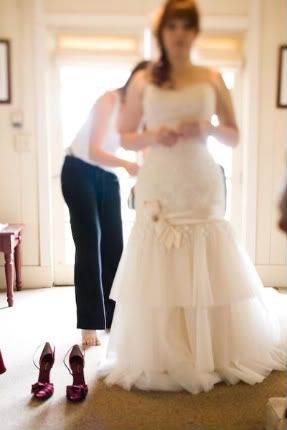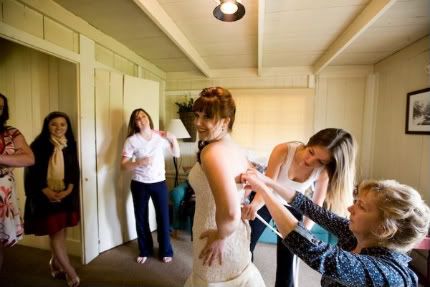 We tied the corset string tight and tucked in the loose ends. I was surrounded by people I loved, was wearing the most beautiful piece of clothing I will ever own, and it was my wedding day.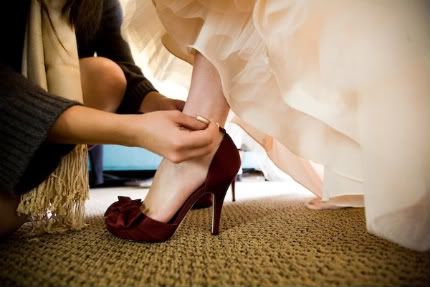 BM J helped me put on my shoes and I was ready to go!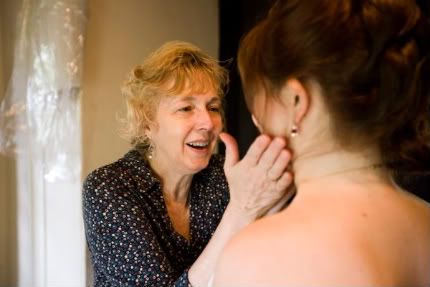 I love love this picture of my mom seeing me after I was all gussied up. We hugged, we laughed, we connected. I love my momma.
You may have noticed that there were two photographers in the room while I was getting ready. You may also soon notice that I will not be posting a typical guys getting ready post. Why? David and his guys were already ready when the photographers arrived.
Sarah
called David and said she was ready to come over to shoot them getting ready, and David said, "Oh, don't worry about it - we're already ready." So she stayed in my cabin. Good job, guys. I wish I had some photos of the guys, but I also appreciate having had both photographers available to get all these great shots of me and my girls.
Now that I was finally all put together and ready, I stepped out of the cabin (with the help of my girls who held my train and kept me steady), and jumped into the car to head out to our first look. I was about to see my groom!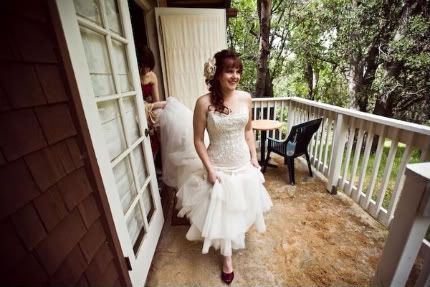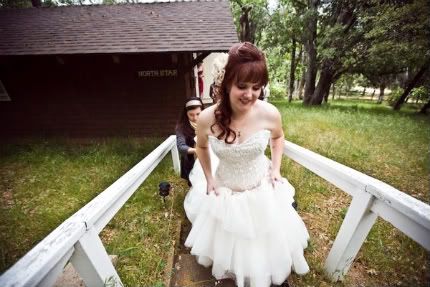 * Again, all photos are by
Sarah Shreves Photography
.