Let me just start this post by saying that people who live in Julian all seem to be awesome / absolutely crazy. No really, Julian's locals all seem to be a combination of extremely eccentric artists and old hippies who moved to the country to get away from the San Diego lifestyle - or awesome combinations of both. I already hinted in a
cake post
that our cake baker was pretty eccentric, but the woman who did my hair was even better. Her husband is a retired hitman for the CIA/FBI or something wild like that, and she is an artist who works mainly with glass mosaics, paint, and - well - hair. My mom had found her on our vendor list from the lodge and booked an appointment. She works out of a salon in her home, so my mom and I drove down the road from the lodge to meet up with her.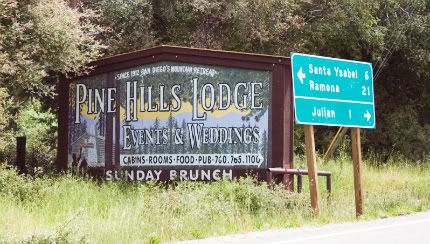 Once we arrived, she basically slammed me into the chair and immediately began spraying massive amounts of hairspray into my hair. I showed her my inspiration pics (below) and prayed that my hair would come out even remotely close to that look.

source. Remember this awesome wedding?
She entertained us with tales of local murders that go unsolved because everyone knows the cops, almost incomprehensible descriptions of her artwork, and stories about the local birds she feeds. Oh, and she told us that there was no way I was going to have an outdoor wedding on this particular freezing day. It was about that same time that my phone started vibrating non-stop. David called to tell me that my good friend Michael had come to ask him if we should move the wedding inside. Michael texted to get a final say from me. And within an instant - while I was sitting there being attacked with hairspray - I said the word. Our wedding was going to be moved into the lodge in front of the fireplace. I stayed calm and quickly made a mental goodbye to the beautiful outdoor lawn we had rehearsed on.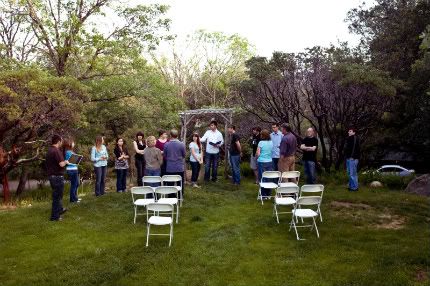 My mom then called my dad just as he and my sisters had finished putting out our shepherd's hook / flower decorations out on the lawn to line the aisle. He protested her call to move everything after all their work, but was soon convinced after we shared the news that the local farmers were covering their crops. Seriously, I think that phrase was said about fifty times - clearly if the crops need to be covered, we all need to be inside. This whole ordeal became really funny at the time.
So, everything was moved - college friend M, my friend Michael, and some other very important friends really stepped it up and made it happen - and I did not see our ceremony space until I walked down the aisle.
The ceremony was moved and my hair was finished. After politely asking that a very 80's pouf of my bangs be tamed, it turned out quite nicely. We were running late at this point, so my mom's hair was quickly done, we paid the lady, and we were on our way. I'm not going to show you my hair or the ceremony space quite yet because they will come in my getting ready and ceremony posts. Stay tuned.
While we were gone,
Sarah Shreves
and her assistant went scouting around Julian for the perfect first look location. Here are some of the lovely photos they took on their way!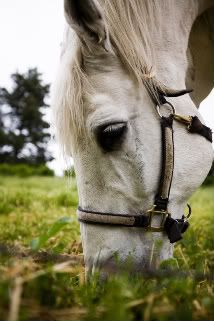 * all photos unless noted are by
Sarah Shreves Photography
.