During the madness of the wedding morning, it dawned on me that we had absolutely no plan for how the rings should be held while they were to be passed in our ceremony (we did a ring warming ceremony - each guest handled the rings... more on that later). The rings arrived to the wedding in their boxes, but other than hidden in those, the rings would have to be passed on their own - an option that didn't seem safe. My bridesmaids worked on constructing a ring pillow out of a fabric flower I made that wasn't being used, but nothing seemed to work just right. Caroline, a dear friend from high school was in the room at the time and mentioned that she may be able to have her mom bring a ring pillow for us. Her brother had recently wed, and her mom, brother, and sister-in-law were to be joining her in Julian for the day before the wedding started. Caroline thought they could bring the ring pillow from her brother's wedding. Just before I left for my hair appointment, though, Caroline got word that her brother and sister-in-law no longer had their ring pillow.
I thanked her for the offer and put the ring pillow out of my mind - I trusted the situation would be remedied somehow. Later, when we were taking photos in downtown Julian, we ran into some familiar faces.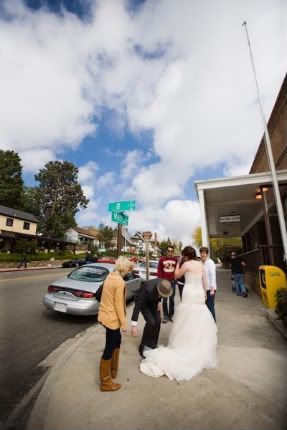 photos by Sarah Shreves.
Caroline and her family were enjoying the sites downtown - it was exciting to run into friends while in my wedding dress but outside the venue and wedding atmosphere.
It turns out that Caroline's mom had brought us a ring pillow. She actually hunted one down at a bridal salon in San Diego and bought it for us - her wedding gift to us. It was such a wonderful surprise, and quite the life saver.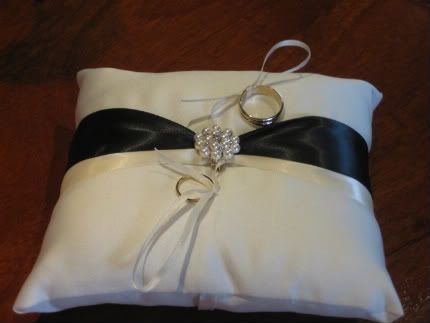 guest photo.
Here she is in action - we don't have any good pro pics of the pillow alone, but it sure saved us a lot of grief by doing its job well.
Have there been any important little details that others have lovingly taken care of for you like this?