I hope you all had a fabulous fourth of July!
Now, let's get back to that wedding weekend re-capping.
After we
rehearsed
, we were all very cold and hungry - it was the perfect time to head over to
Wynola Pizza Express
for our welcome dinner!
Juts before we headed out, I remembered that I had forgotten to carry my rehearsal bouquet that the ladies at my shower worked so hard on (I should have taken this as a sign to try to remember more details - as you will see many other little things I forget throughout the wedding), so I made sure to grab
Sarah
and get a quick photo of it.
Isn't it lovely? The ladies had only tissue paper and ribbon to work with, as my shower gifts had no standard bows, so they had to get creative. I think it turned out great! David, on the other hand, not quite understanding the shower gift/rehearsal bouquet tradition had other ideas about it - his actual quote when I came home with this bouquet was "What in the world!? Is there some tradition about warding off demons with this thing?" Clearly the art of folding and designing tissue and ribbons was lost on him. ;)
Anyway, back to the pizza. We all piled into cars and headed down the country road to Wynola.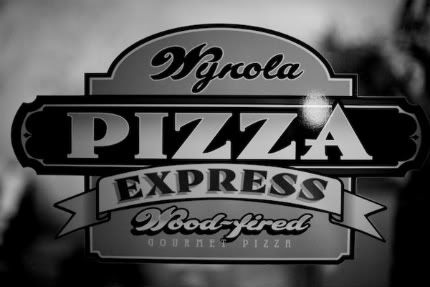 Since it was freezing outside, the restaurant's nightly entertainment had been moved into their red barn for the night. We, then, were moved into a back room that had been closed off for us. It wasn't as charming as the barn would have been, but they did warn us this might happen, and the room certainly served its purpose.
As soon as everyone arrived, David and I made an impromptu speech to welcome our guests.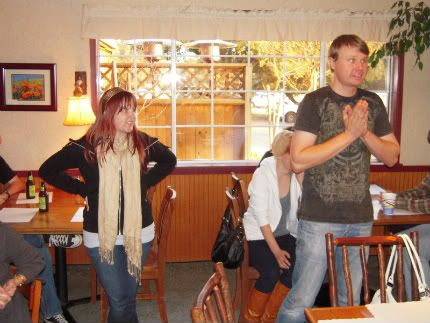 guest photo.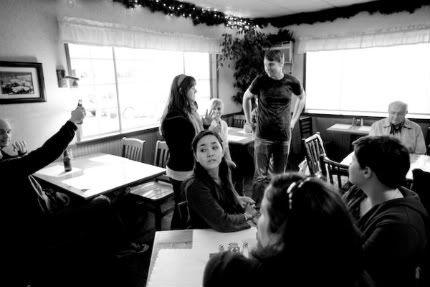 The speech included a lot of mushy words about how much we loved everyone in attendance and how excited we were to have them there as well as lots of encouragement to eat up - we were paying per person for all they could eat, after all. I definitely included a push for everyone to drink plenty of Wynola's very own sodas, which we were also paying for.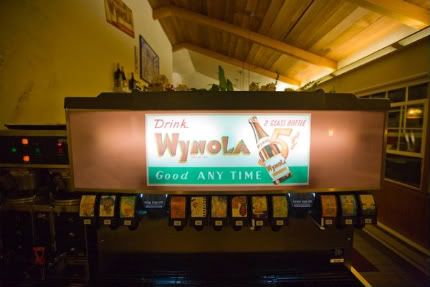 Then, we released the masses to the buffet.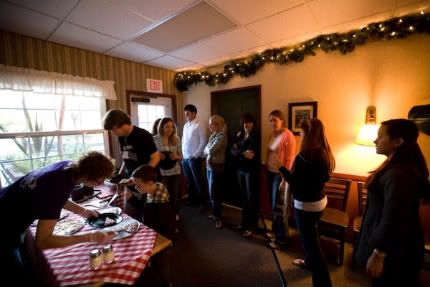 guest photo.
Everyone really seemed to enjoy the pizza - and we certainly ate our money's worth! It was so great to see friends from so many different chapters of our lives interacting and our families all mixed together.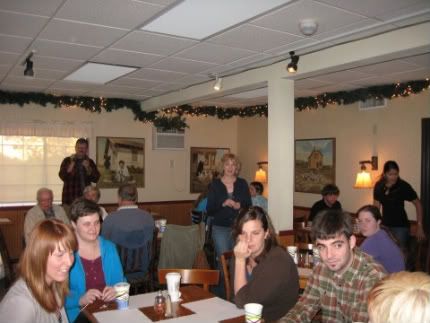 guest photo.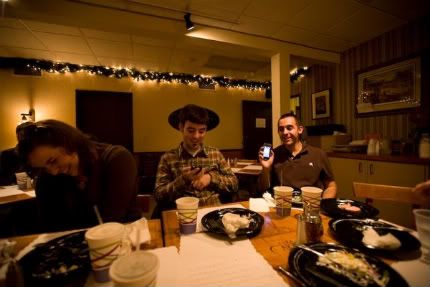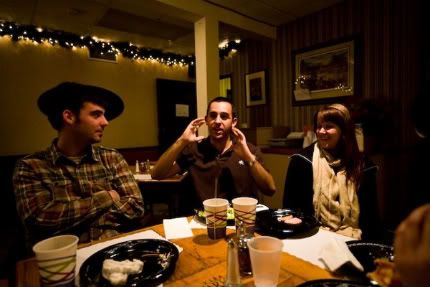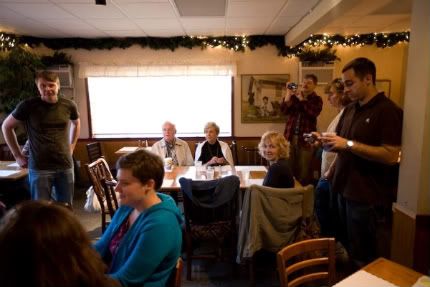 David, being the servant of others that he is, couldn't stop offering to bring drinks, food, napkins, and more to our guests. I sternly but lovingly made him promise that he would not lift a finger on our wedding day and allow others to serve him. Thankfully, he agreed.
We laughed. We ate. We spent quality time with many people who mean the world to us. I'm so glad we chose to do a more casual welcome dinner and include everyone who could make it instead of a formal rehearsal dinner with our wedding party only.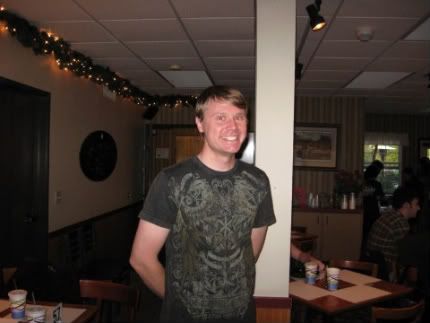 guest photo.
It all ended too quickly, but all was well because I was going to marry this man the very next day.
Some of our guests extended the fun by spending some time in the Lodge's pub once we got back. I was able to steal a few precious moments alone with David in his cabin while his groomsmen had a few beers and played some darts. Then, I headed back to my own cabin with my girls. My sisters, my bridesmaids, an extra high school friend, and a college friend all crammed into our cabin and talked and laughed for quite awhile before falling asleep. Tomorrow was my wedding day and I was surrounded by loved ones - I couldn't have been happier.
If you're considering a larger, more casual rehearsal dinner, I say go for it! It's a great way to spend time with your wedding guests in a calmer, more casual atmosphere - and it may be the only time during the wedding you'll have the chance to talk to some of those people. Honestly - my advice is to surround yourselves with as many loved ones as you can during as many opportunities as possible during the wedding - it may make things more hectic, but it's time you'll cherish and never get again.
* all photos, except the four that are otherwise noted, are by
Sarah Shreves Photograhy