After romping through downtown Julian, it was time to meet up with our wedding party. David called back to a groomsman to confirm a meeting place, and he then offered to wait for them - giving
Sarah
some time to shoot photos of just me.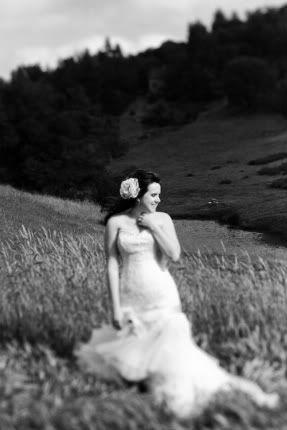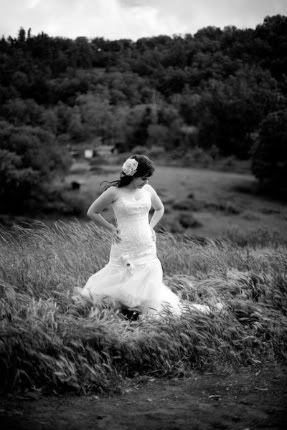 I may be hiding it fairly well in these photos, but I. was. freezing. See those grasses blowing my direction? Yeah, that was icy wind blowing right at my naked arms. Seriously, quite possibly the coldest I've ever been. (Minus the time my dad decided to pick me up from Sea World after eleven consecutive rides on "shipwreck rapids" (read: I was SOAKING) in the middle of winter late at night on his
motorcycle
and proceed to drive me home on the freeway. That was pretty cold.) But yeah, I froze - but all for the sake of the art. There was nothing going to stop me from getting good wedding photos.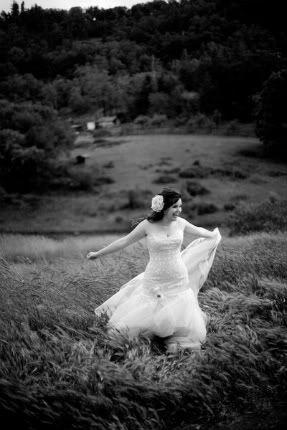 I'm. so. cooooold... I mean, I swear I'm not freezing. la de da. happy bride..."
Minus the cold, this was a really fun moment of the wedding day. I got to just stand in the field and soak in my wedding day. My wedding dress was blowing in the wind, and I got to flaunt it and love being a bride. I know that many people get bridal portraits done on a day before or after the wedding, and many women talk about how free, beautiful, lovely, empowered, etc. it made them feel. I got to sneak a small peek into that feeling on my wedding day.
and of course, we had to get some shots of my shoes: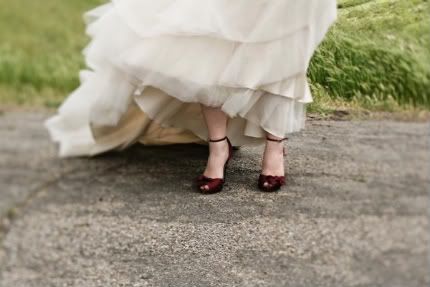 Take a closer peek at my legs. Look at how blotchy they look - proof of the freezing cold, yeah?
As quickly as this impromptu bridal session began, it ended - the groomsmen and bridesmaids had arrived and it was time for some fun group shots!