Have you figured out what I forgot to put on or bring with me when I was getting ready and all through our pictures yet? No? Well, neither had I at this point.
But suddenly, literally just minutes or maybe even
seconds
before everyone was supposed to walk down the aisle, - honestly, we were all getting lined up - it hit me. I yelled out
"VEIL!"
and everyone turned and stared at me. How the heck had I forgotten my veil? No really, how had nobody noticed that I was missing my veil all this time? Apparently my veil, which was originally hanging by my dress, had been moved out of the way for pictures of my dress, and it had been completely forgotten about. Awesome.
So, my dad - my hero - ran out to save the day. He rushed to my cabin, frantically searched around a bit, and valiantly returned with my beautiful veil - which my mom and David's mom proceeded to place on my head.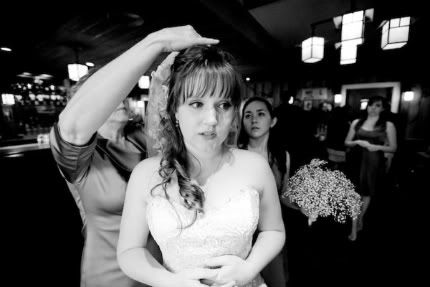 While I desperately wish I had some outdoor action shots of my veil in the wind, - and more pictures of my veil period - I love love love these photos. This was such an unplanned, crazy, yet intimate, beautiful, and special moment. I love that both mothers and my bridesmaids can be seen helping me with my veil, and I
love
appreciate that my crazy bride-brain forgetfulness was documented in this way.
So now, with my veil
finally
placed on my head, I was ready to get married!
* all images by
Sarah Shreves
Photography.