Remember how I said we rushed through our wedding party photos so our friends didn't have to freeze? Well, because of that, we have exactly three photos of our entire wedding party. Sure, I wish there were more, but these three are pretty great, and our maids and men stayed happy.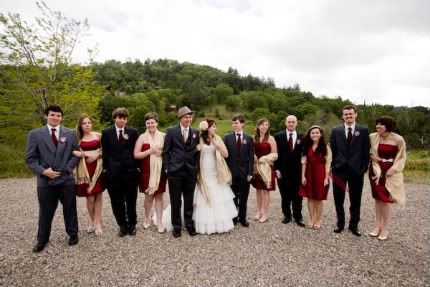 We really did have an awesome wedding party, and don't we all look amazing together? I wish we could have had more time hanging out with this group - I've seen wedding parties do whole weekends, trips to Disneyland, and other group celebrations together - I wish we could have taken the time to do that.
Which of these wedding party pictures is your favorite? I'd love to get a big print of our awesomely amazing friends.
* all photos by
Sarah Shreves Photography
.