So, we were mid-ceremony, our rings had been passed and prayed over by our loved ones, and it was time to seal the deal: it was time to say our vows, and, you know, get married.
Pastor Kevin read Mark 10:6-9:
6"But at the beginning of creation God 'made them male and female.' 7'For this reason a man will leave his father and mother and be united to his wife, 8and the two will become one flesh.' So they are no longer two, but one. 9Therefore what God has joined together, let man not separate."
And then it was time to say our vows. We had written personal vows for one another and hed kept them secret from the other until this very moment. David went first.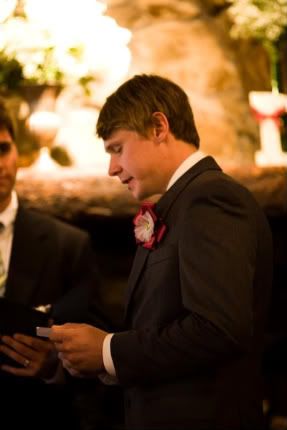 He read: "I vow to give you all of my strength, all that I can endure. I vow to do my best to be slow to speak, quick to listen, and as slow to wrath as I can be. I vow to keep you as my one and only, to speak of you fondly, to remember you happily, and to keep you with me.

I vow to seek the Lord my God in all things, to remember the sacrifice of His Son, and to possess the gift of His Holy Spirit. I give my entire heart, mind, and soul to Him, and what He returns to me for my own use, I vow to you.

These are my vows and promises, and in prayer and faith I will seek to keep these all the days of my life.
We decided to include part of the traditional vows as well, so as soon as he was finished reading, Kevin led him through the "I do" part. Then, it was my turn.

This is the ugly cry face at its finest. I could barely choke out the words I had written.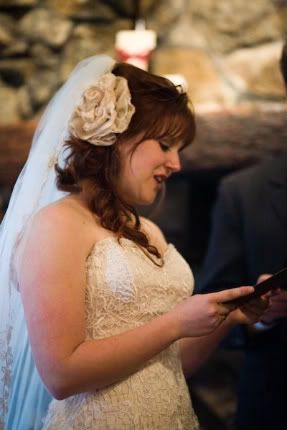 I read: "David, as I stand here today, I'm in awe and so grateful that the man who has a heart to love and serve everyone has chosen me. You are such an honest and selfless servant of God, and I am proud to stand by your side and become your wife.

Like breathing – like my heart beating – loving you is involuntary. It's something within me that will always remain. I feel like I've always loved you. However, love is also a choice – an action, a very voluntary thing. Thus, today – in front of God, our families, and our dear friends, I vow to choose to love you each and every day. I vow to make the choice to put you first, consider your needs, and truly love you - as an action that I will live out for you – no matter what.

I promise to be your wife – your partner in everything, respecting you as the head of our house, and supporting you as we follow God's awesome plan for our lives together. I will love God more than I love you, so that He can be always teaching me how to love you. I will say I'm sorry when I'm wrong, and really mean it. I will bring you chicken soup when you're sick, hold your hand when times are hard, laugh like a fool when times are good, and never take our time, health, and love for granted. I will respect you, honor your decisions, and love you more every day so much so that our future children will never doubt our love.

I will stand by your side – your wife – today and forever.
I honestly don't know how I managed to say all of this - of course I had to shoot myself in the foot once more by making our ceremony so entirely perfect that it turned me into a wreck. I remember not being able to recognize my own voice as I choked out the words, and there were certainly more than one pauses to try to contain myself. Then it was my turn to say those legally binding words - "I do", and we were ready to exchange the rings that had been so lovingly warmed and prepared by our friends and family.
You'd think at this point we were done emotionally destroying each other and our guests, but no, we still had a few more things up our sleeves until we could officially be announced husband and wife. To be continued...
*Yep, all photos by
Sarah Shreves Photography
.