In wedding planning we so often get carried away thinking about so many things - the dress, the guests, the reception, the food, the decor - and it becomes easy to forget about the most important detail - the ceremony. After all, it's the wedding part of the wedding. Without it, you're just throwing a big party - not actually getting married. Thus, I consider the ceremony the meat of the wedding plate.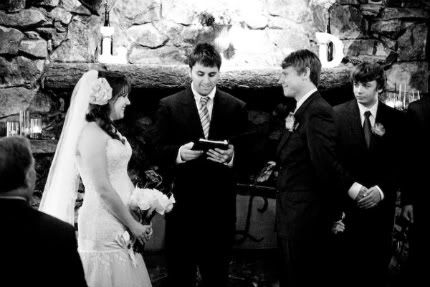 David and I decided that we wanted to write our own ceremony. It meant a lot to us that every word that was said be for us specifically and that we shared ourselves with each other and our guests as much as possible. We spent some time outlining the whole deal together and then wrote out and chose specific passages that we wanted said. Finally, we met with our pastor and compared notes. He showed us what he was planning to say in our ceremony and we filled in the blanks, re-arranged, and shared our written passages with him. I don't have a copy of his own words and notes, but I will be filling in this post with the passages that David and I wrote - imagine some pretty great pastor wedding stuff in-between.
From the moment I came down the aisle, I saw David get teary. Seeing him cry made me come very close to crying myself - little did we know that we had written in the true waterworks to come soon. After Pastor Kevin said a statement about marriage and the Bible and a declaration of our intent, he asked my father to "give me away", and then he prayed for our union. Next came the ring warming ceremony. We wanted to give each guest a chance to hold/pray over/and bless our rings before we exchanged them. Here's what we wrote for Kevin to say:
As members of Laura and David's friends and family, each of you hold a very important piece to their past. You have helped shape them into the people they are. Today, they ask that you also become a very important part of their future together. There is a reason we have public wedding ceremonies – not only is it a joy to celebrate this union with you all, but Laura and David also ask something very important of you. In addition to asking that you witness their commitment today, they ask that you support them, remind them where they've come from and where they are headed together, and continue to help shape their lives – now as a married couple.

Soon, Laura and David will exchange wedding rings. These rings are a visible and symbolic sign of their commitment to one another. But first, they would like to invite you all as family and friends to take part in the warming and blessing of their rings. As the rings are passed, Laura and David ask that each of you hold them for a moment, warm them with your love and make a silent prayer for this couple and their future together. When these rings come back to be exchanged, they will contain, in their precious metal, that which is more precious, that which is priceless – your love and hope and pledge of support for their union.
and, as the rings were passed from the back to the front (while sitting on the lovely last-minute
gifted
ring pillow,
this song
began to play. (Note: I cannot find this song on youtube or anywhere else that might allow me to embed it here. Please click the link in another window to enjoy the song for the remainder of this post.)

These photos of our parents and grandparents praying over our rings are some of my absoute favorites from our ceremony.
Oh boy, including the people we loved in such a way while listening to
that song
was such. a. bad. idea. The floodgates came pouring open. We were a crying mess. It was beautiful but so very hard to stay composed.
Once the rings were brought to the front and given to David's brother to hold, Kevin read "Union" by Robert Fulghum:
You have known each other from the first glance of acquaintance to this point of commitment. At some point, you decided to marry. From that moment of yes to this moment of yes, indeed, you have been making promises and agreements in an informal way. All those conversations that were held riding in a car or over a meal or during long walks - all those sentences that began with "When we're married" and continued with "I will and you will and we will"- those late night talks that included "someday" and "somehow" and "maybe"- and all those promises that are unspoken matters of the heart. All these common things, and more, are the real process of a wedding. The symbolic vows that you are about to make are a way of saying to one another, " You know all those things we've promised and hoped and dreamed- well, I meant it all, every word." Look at one another and remember this moment in time. Before this moment you have been many things to one another- acquaintance, friend, companion, lover, dancing partner, and even teacher, for you have learned much from one another in these last few years. Now you shall say a few words that take you across a threshold of life, and things will never quite be the same between you. For after these vows, you shall say to the world, this- is my husband, this- is my wife.
And it was time for the real meat - the legally binding words that would make us husband and wife and the symbols that followed. To be Continued...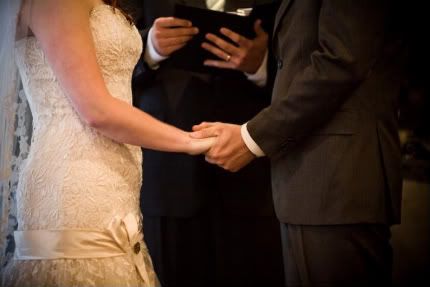 The moral of the story thus far: Writing your own ceremony is great and makes such a wonderful personal memory, but if you don't want to be a puddle of tears by the end, maybe don't include every personal detail.
* Again, all photos are by the lovely
Sarah Shreves
.