Okay, I promise I'm alive. I really am sorry about my blogging hiatus, but it really was a much needed break. I have been pretty down about some real-life junk, and blogging was just starting to feel like work. Now, though, I am super excited to finish off our wedding re-caps, and ready to start blogging about anything and everything that I enjoy - I want to make this a celebration of the good in my days so it's a joy and not a burden. Anyway, re-living our wedding is certainly no burden, so back to the re-caps we go! I sure hope you've stuck with me throughout this break, because we're just getting to the good stuff - the actual wedding. :)
After we took family photos, exchanged gifts, and remembered my veil, David, our wedding party, our families, and I stood around in the pub adjacent to the lodge's lobby (where the ceremony was now taking place) waiting. I peeked out the windows and watched as so many people who are so dear to me arrived. It was surreal to see loved ones from all different aspects of life gathering all the way out in Julian.
My mom checked on the ceremony space (which I still had not seen set up) and on guests as the arrived,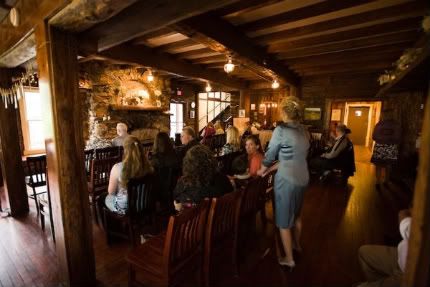 and the men started to line up as my ladies probably continued to fuss over me and fix my veil.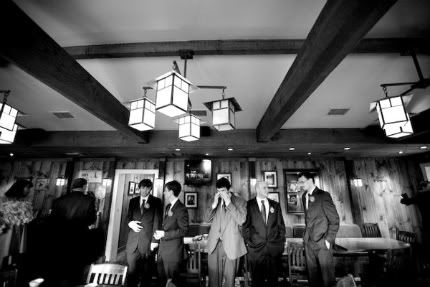 Then, they began to pair up,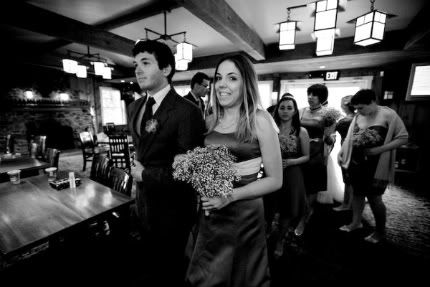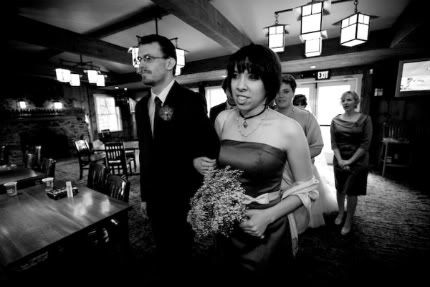 and, before I knew it, David and his parents left the room to walk down the aisle with my bridesmaids and his groomsmen in pairs close behind them while an acoustic version of The Beatles'
In My Life
(very similar to the one in the video below - click to play and set the mood if you'd like) played.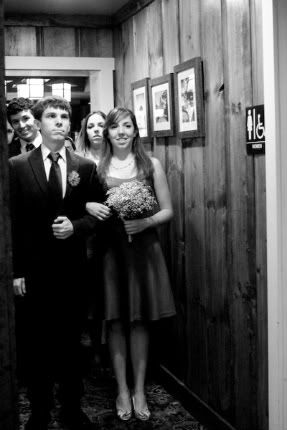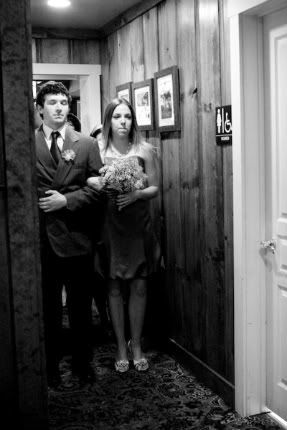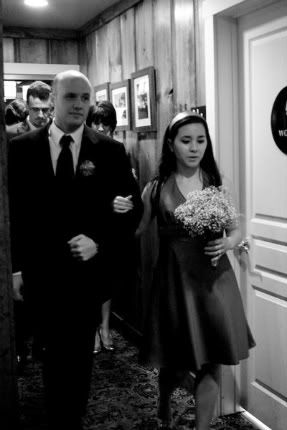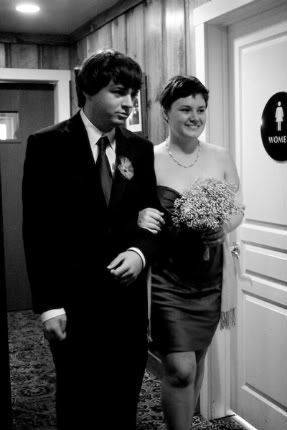 Then, suddenly, the room held only my parents and me.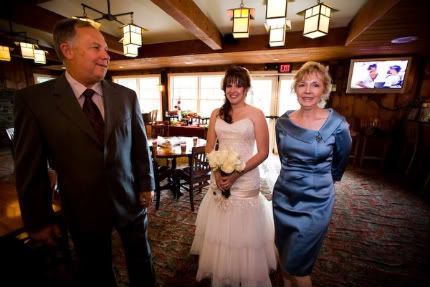 It was my turn. The music changed (though I assure you, I was unaware of any music at the time) to a loop of the first beautiful minute of Ray LaMontagne's
Be Here Now
. (The edited loop was created by me very roughly on iMovie sometime during the week of the wedding or so. Again, you can click the video to listen.)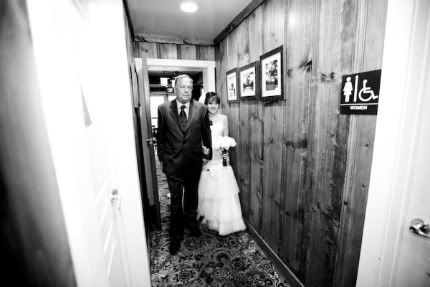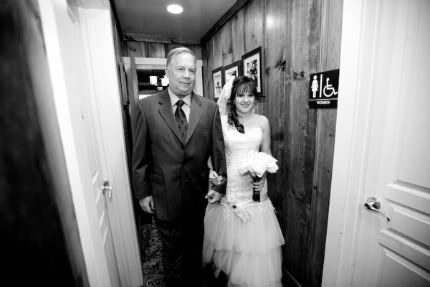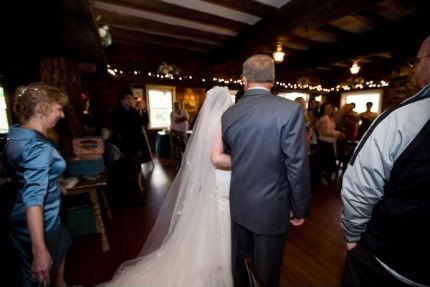 I was suposed to walk with both of my parents, but since the hallway from the pub was too thin, my mom met us when we reached the actual aisle. I'm sure you've noticed that none of these photos are from the actual aisle walk (What? The women's restroom sign and lack of seated guests didn't give it away?), and that's due to the fact that the room was literally jammed full of people. There was absolutely no space for the photographers to get around for good shots. Add the lack of good natural light and I'm impressed and appreciative of every good shot they did get from the ceremony. Anyway, pictures or none, we all made our way to the front, and it was time - for real, this was the moment - for me to marry the man of my dreams.
* Of course, all photos are by the amazing
Sarah Shreves Photography
.