David and I were gifted a Southwest Airlines gift card as a wedding present, so when we were invited to my old roommate A's wedding, we knew that we would both like to fly up and make a long weekend of it. The fact that the wedding was during my birthday weekend, many of my dear friends were invited (and vendors!), and it was in Berkeley - my college town and home to many of David's and my favorite restaurants and spots to visit - was just icing on the cake (which was delicious!). What followed was a weekend full of public transit, reuniting with friends, tons of good food, and lots and lots of love.
Even though we had a gift card to put towards our plane tickets, we still wanted to go as cheap as possible - which meant flying on weekdays (which are significantly cheaper than weekend tickets.) We flew into Oakland on Thursday night and played in the Bay Area all the way until Monday early afternoon. It gave us plenty of time to visit friends, wander both Berkeley and San Francisco, and give a whole day to the wedding.
We were to spend Thursday and Friday evening at my friend G and her husband S's house on the peninsula. Our flight was delayed a good 2 hours, but that didn't stop G from greeting us at the airport with some delicious (and still hot)
Zachary's Pizza
. She was sweet enough to wait for a late dinner with us, so as soon as we got to her apartment, we scarfed a few too many slices and headed to bed.
The next day, G's husband S was so kind as to drive us to the BART station where we took the train all the way from the end of the line on the peninsula, under the bay, and into Berkeley - where we promptly walked to
Crepevine
for a delicious breakfast. We explored a few stores that we'd been missing -
Games of Berkeley
and
Amoeba
- and then we met up with the lovely
Sarah Shreves
for lunch at
Cheeseboard
. Roommate A loved our wedding photos so much that she booked Sarah for her own wedding - it was so awesome having college friends and high school friends together for the weekend.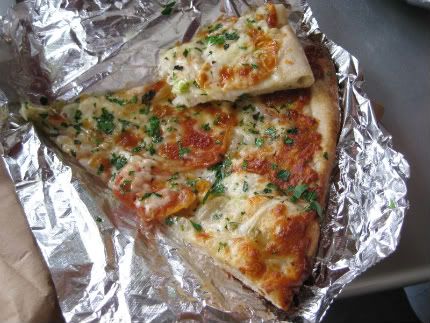 If you've spent time in the Bay Area and you haven't been to Cheeseboard, I'm ashamed of you. No, but really, these people make magic happen everyday on sourdough crust. They make one type of pie a day with a variety of fresh vegetables, awesome cheeses, and garlic olive oil, and people line out the door and down the street to try a slice.
After lunch, we left Sarah and walked back to BART to travel all the way back to G and S's where we promptly drove to Half Moon Bay for dinner (I told you there was a lot of food.) We ate at
Barbara's Fish Trap
where we enjoyed fish and chips, clam chowder, and some beers.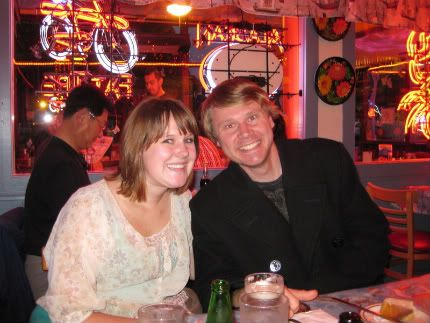 We returned to G and S's house where David gave me my birthday gift (which G helped him wrap out of a shopping bag - so cute) and we played a little
Quiddler
.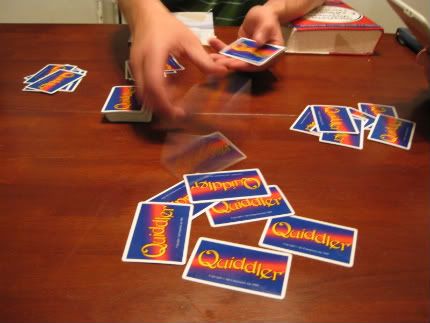 So far so good on the whold good friends, good food department. Day one - a super success.
*In case you were wondering, David's gift to me was Explosions in the Sky's album
"Those Who Tell The Truth Shall Die, Those Who Tell The Truth Shall Live Forever"
which he purchased while we were at Amoeba that day. He doesn't like anticipation, so he gave it to me that day instead of my actual birthday. ;)