If you
recall
, I mentioned that I was painting our bedroom awhile back. Well, It's time to show it off! Our landlady mentioned to us that her husband hated the pinkish color on our walls and that she would love for us to paint if we'd like. I took that as permission to paint the room pretty much any color I'd like that wasn't pink.*
Here's my inspiration photo:
source.
and now for our room:
Before:
After: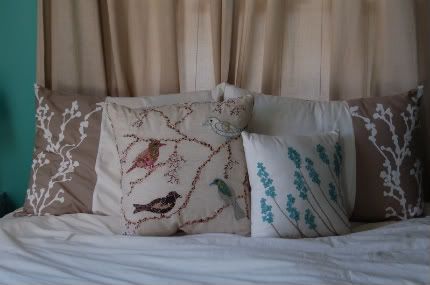 Before: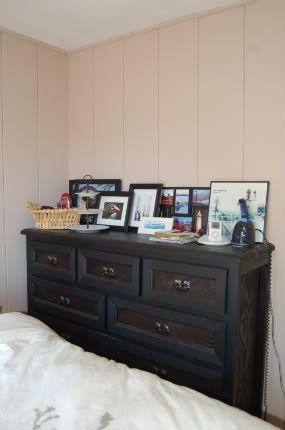 After:
all personal photos.
What do you think? I think it's amazing what a little color can do.
I still have some work I'd like to do. I would love your suggestions for attractive storage on top of the dresser (it easily becomes a junk collection spot), and I'm working on the best way to display the cosmetic case and mirror on my night stand.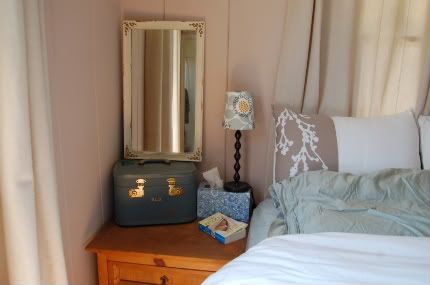 Obviously this photo was taken before I painted, but it gives you a good idea of the space. What do you think, should I hang the mirror? If so, on which wall/side of the corner? Also, I like the lampshade, but I don't know if it quite goes. The lamp is from Ikea and I'm willing to replace it and/or the shade if necessary. Any ideas? Oh, and don't worry; I've replaced the tissue box under the lamp with a stack of old books.
* Both the landlady and her husband came into our house a few weeks after I painted to work on something. They noticed the paint right away and told us the liked it, for the record.