After the cocktail hour, it was time to move on in and take our seats for dinner. We did not to a formal grand entrance. We must have been held back talking to the stragglers, though, because I don't remember seeing anyone taking their names from our seating chart map (which we also have no professional photos of - it was one of my favorite details, but I don't know how much of an impression it made.)

photo by lifesaver friend (for many reasons) M. Thanks, M!
The little tags had our guests names and the location on the map matched the location pictured on their table. I added the numbers to each region and table to make things easier. This method for a seating chart proved very useful because nothing was set in stone - we ended up having to make a lot of seating changes and shifted a lot of people, and we were able to simply move their tags to show their new table. The engagement photo to the left is in an awesome vintage frame that I found while rustling around in my grandfather's garage way back when. I stuck the frame in one of the boxes to bring to the wedding, and I'm so glad I did.
Anyway, everyone found their seats, so the map must have worked. The chairs had all been moved back to their places, and the dining room look amazing.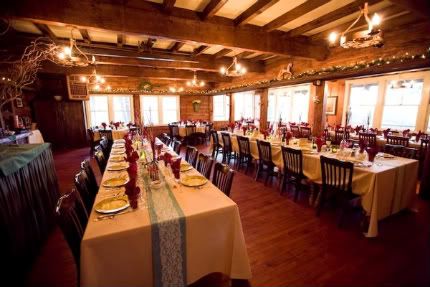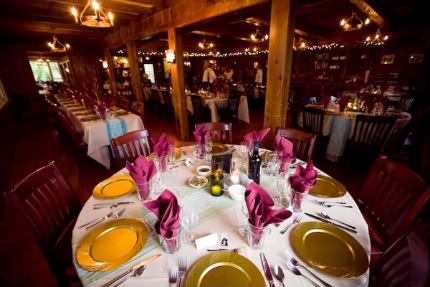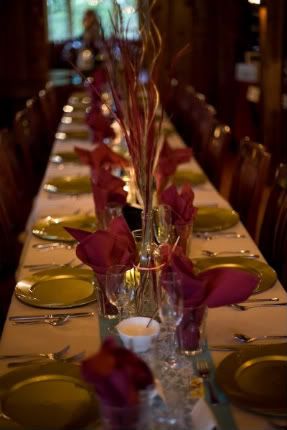 I'm so grateful to my maid of honor for making the beautiful table runners, and to my sisters and friends for setting the places so beautifully.
I had such a love/hate relationship with my DIY centerpieces, but I think they ended up looking rather nice on the tables. The head rounds in the front got my and my bridesmaids' bouquets as centerpieces.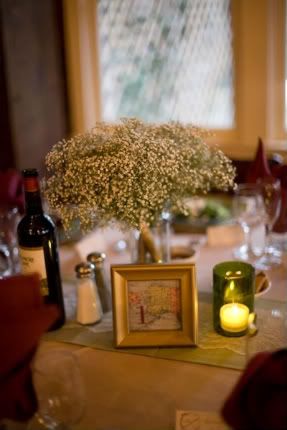 The above photo also shows a great example of the regions from the seating map. Each table got a frame with one of the regions (and number) where the name tags on the main map were. The Alaska one above was by far one of my favorites.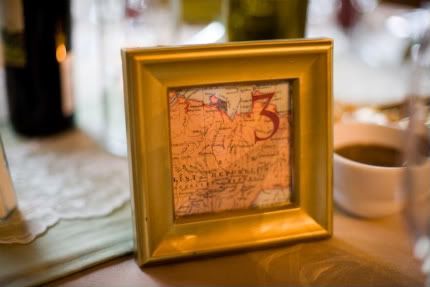 Those frames came in a pack of three for only $2.50 at Target. They were a great deal, but they came in a glossy white. Painting those darn things gold was quite the challenge. To make things worse, the glass did not come out, so we had to tape over it to keep from painting it. Three+ layers later, my mom and I were very tired of the frames, but pretty proud of our work.
And, believe it or not, there's more. I can't believe the details on the tables alone take more than one post. To be continued...
* All photos, unless otherwise stated, are by
Sarah Shreves Photography
.