Another thing that had to be moved inside was our cocktail hour.
If you recall
, we were going to have our cocktail hour on the deck so we weren't to close to the alcohol in respect of some guests. I honestly don't even remember discussing the move inside on this one, but it must have been communicated because the appetizers and sodas got set up in the pub, and all the guests got shuffled in there for an hour while the chairs got moved back for the reception.
The lodge provided appetizers - fruit and cheeses - that I don't remember trying, and we got permission to bring in our sodas. We ended up with a whole bunch of
Mexican coke
, and a variety of real cane sugar sodas in old fashioned glass bottles from Trader Joe's (win!), and they were a huge hit.
As soon as the ceremony ended, David and I moved into the pub and our guests followed. This period of time was a huge bur of the most extreme love and joy I have ever felt. We ended up having an impromptu receiving line where we got to hug and greet each guest. There was a LOT of hugging.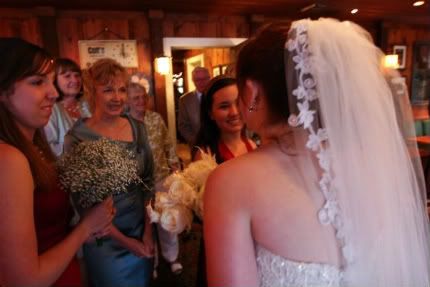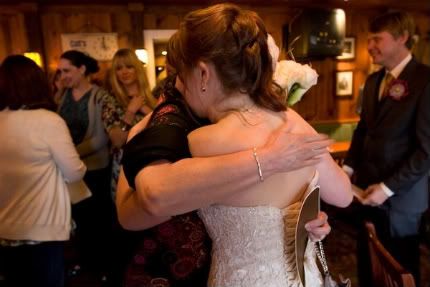 Somewhere between that first photo and the second, I hugged an old roommate and she somehow stepped on and pulled off my veil. That thing wasn't on long. Good thing I was planning on removing it for the reception anyway. ;) The beautiful momma in the last photo is A, the bride who's wedding we went to see in Berkeley last weekend.
The hour (if that's how long it really was) flew by while I took as much time to talk to each guest as possible. I truly felt out of body as I heard a voice that did not sound like my own saying "Thank you!" over and over and grinning my face off. I have never felt the way I did during that hour, surrounded by the love of so many amazing people in my life, and I don't know if I ever will again. I found myself thinking, "Now, THIS is joy."
Some of my friends also took the opportunity to take photos with me.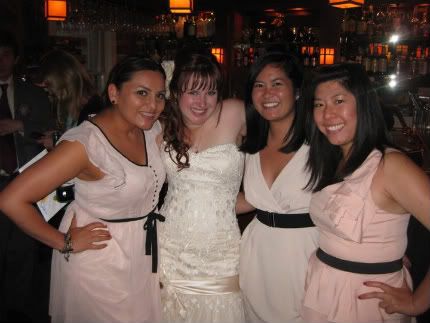 Don't these ladies look like they could have been my bridesmaids in those lovely dresses?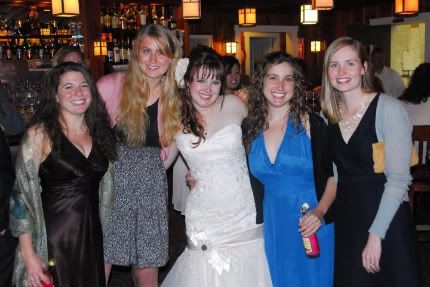 some of the sodas making an appearance...



and there I am with a Mexican coke of my own! I owe the person who brought that over to me so much, if only I could remember who it was. The card in my hand is the cutest hand drawn card ever from my cousin's son.
The time went so quickly and there aren't many photos, but our cocktail/soda hour was one of the most amazing hours of my life. I truly cherish the time we got to spend with our guests and couldn't imagine having to wait until the reception to be able to hug everyone. The moral of this post? Getting all of our formal photos taken care of
before
the ceremony so we could go straight to our guests afterwards was the best. decision. ever. The end.
*The first four photos in this post are by
Sarah Shreves Photography
, and the last three are by wedding guests.