While we were on our trip, I had one major thing in mind to find at amoeba records -
Sunrise
by F.W. Murnau. It's a silent film made just before/during the transition into "talkies", and was made by German director, Murnau, in Hollywood - in the classic Hollywood style... sorta. This film beautifully mixes German Expressionism, French Impressionism, and Soviet Montage styles all while keeping the feelgood Hollywood style we love. The film won "best picture" in the 1927 Academy Awards, but seems pretty unknown otherwise. I fell in love with it in a class in college, and I've been searching* for it ever since.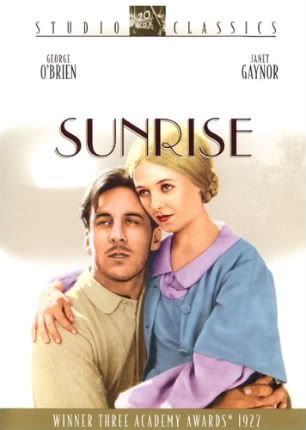 I found it on my birthday and gladly snatched it up for myself. (I even considered wrapping it for myself, but that's just because I'm crazy. Oh, and I love love love wrapping presents.) It came in a "best picture" collection of films - including All About Eve (1950), Gentlemen's Agreement (1947), and How Green Was My Valley (1941) - all of which I have not seen. Are these favorites of any of yours? Which film (after Sunrise, of course) should I watch first?
* Yes, I was searching for a long time for a copy of this film. I had checked Amoeba previously and asked around at other retailers. However, fear not: if you would like to see it,
Netflix
has it for rent, and I found it on
Amazon
, but it appears that someone has just torn apart the collection and is selling the DVDs seperately.