Um, hi. Is it too late to talk about Thanksgiving? I know you've all probably moved blissfully on to full-fledged Christmas mode (I mean, I certainly have), but I just received some photos from the table settings I did for Thanksgiving from my sister who was the only person with a camera on hand (thanks sister!) Can I show them to you?
So, it was Thanksgiving day, the turkey was just finishing up, and we were about to sit down to eat when I realized the tabe was a disaster. Not only was it not set or festive, it was covered in junkmail and such. Well, I came to the rescue - It's decorating time! So, with basically less than nothing to work with, I pulled this together.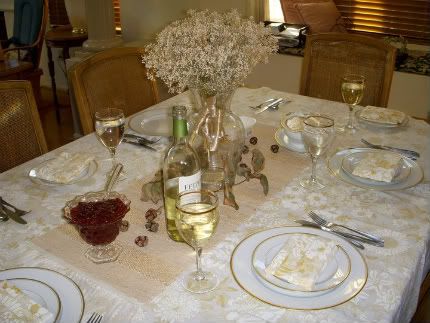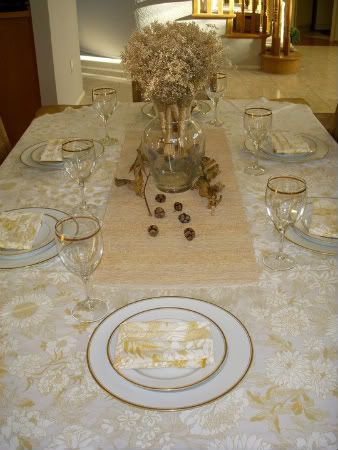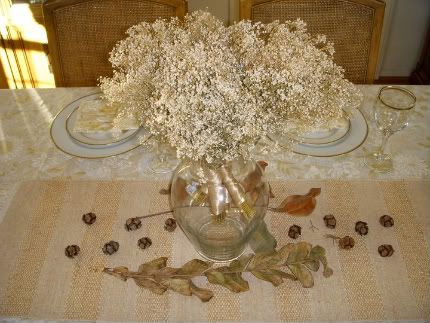 The runner is a mat runner that my mom uses on behind the couch furniture to place photos on (and at Christmas, it acts as the "straw" ground for our nativity set - look, this post is about Christmas too!), the bouquets are bridesmaids' bouquets from my wedding that my mom saved and placed in that vase, the pine cone type dudes and branches are from the backyard. The table cloth and napkins (hello cummerbund fold that I learned while assisting wedding coordinators) are an antique set my mom inherited (as are the plates). Anyway, it's not the best setting ever, but the point is that you can make a beautiful table out of almost anything. There's never an excuse to not decorate. ;)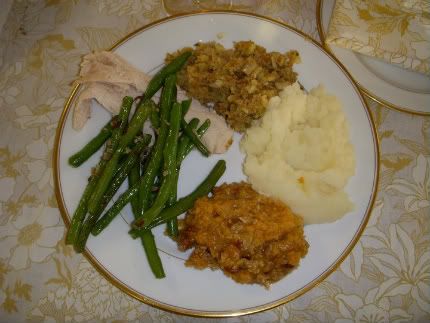 I want to eat this. now.
Okay, back to your regularly scheduled Christmas/Holiday posts. I'll be back soon with a Christmas tablescape and some more fun.