I've shown you my
bedroom
, so now it's time to start seeing the rest of the house. I'm not quite as satisfied with any of the other rooms - our bedroom is the only room that feels complete with fresh paint and all the photos I want on the wall. There's not too much I can do with the kitchen - it's tiny - but, the many items I've collected off our wedding registry, and some beauties from Anthropologie have helped spruce it up.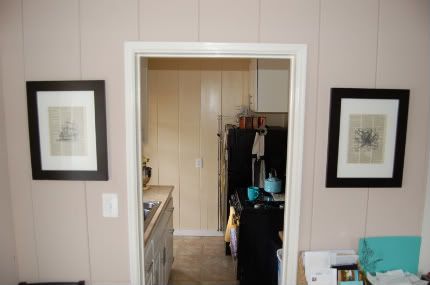 We have a little nook with our dining table just outside the kitchen door, so I consider the entryway - with these beautiful dictionary prints I bought off etsy - a part of the kitchen.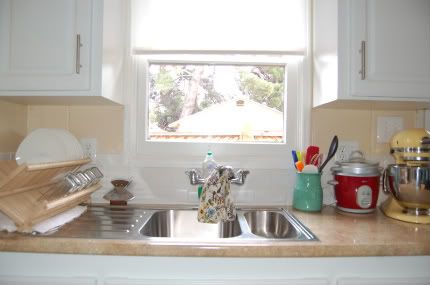 I love yellow kitchens, so I was super excited when I first visited our little house from a Craigslist ad. The view isn't great - that window looks out to an alley behind the house -but, it's nice to have sunlight streaming in while I'm cooking and washing dishes.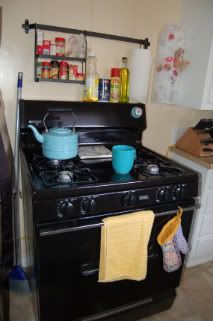 As you can see, we have very limited counter space, but I somehow get by. I love the black oven - our fridge (to the left of the stove. not pictured.) - is also black. I think it makes the blue and yellow accents pop.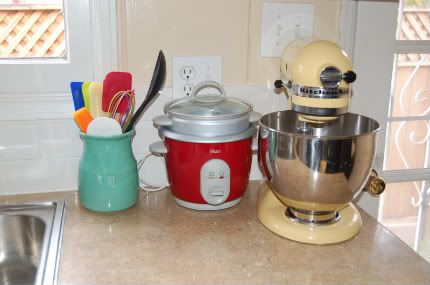 I love my Kitchenaid stand mixer. It's the king of the wedding registry, I tell you. The yellow just screams "happy kitchen" to me. The utensil jar was an Anthropologie buy that I lusted after for months. The little red rice cooker was a gift, and I love how the red goes with the yellow and teal.
Our limited space means we had to choose our appliances sparingly. Instead of trying to fit a microwave and a toaster, we compromised with a toaster oven. So far, it's worked pretty well, but there are definitely times I wish I had a microwave it definitely forces us to be creative with our leftovers.
So, that's our kitchen. More than one person in there at once, and you're guaranteed to bump into each other, but I think it's pretty cute. I'm working on some art to put on the far wall.