I think the best way to appreciate a year and begin a new one is to look back on everything I've done that past year. Here's a month-by-month recap - an idea shamelessly stolen from other bloggers.
January:

It was wedding planning madness as the year we were to wed began. I focused on what I really wanted from the wedding -
the moments
. I was
inspired
,
worded
, and
drafted
our invitations. My mom, David, and I
cut bottles
to be votives and vases.
Finding shoes
became a struggle. My parents and I visited my grandparents in the desert, and I
discovered Home Goods
. After
a brief mixup
, my love for Paper Source grew, and I was ready to start the invitations. We got David
a suit
, and I pondered the
brooch
on my dress.
February:

February was still
chock-full
of wedding planning. I
struggled
some more with shoes, but
got closer
to a result. I
broke out the Gocco
and officially started the invitation process. I
discussed
why I would change my name. We were getting closer to taking engagement photos, so I
gathered inspiration
and considered
what
to
wear
. I reached a weight loss
goal
, and
landed
an assistant coordinator job. David and I celebrated our last
dating anniversary
. We got
rained out
of our e-shoot, but it gave me time to
scout out
the best e-pic location ever. I made
boutonnieres
, and my momma got a
dress
.
March: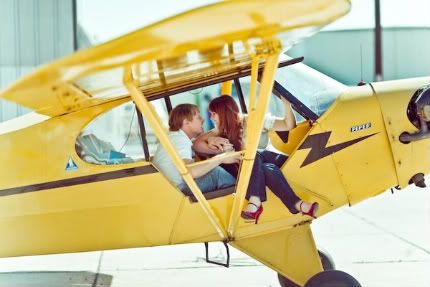 We spent a day in Julian, finalizing wedding details and
visited a baker
, which made me temporarily
re-think
our
cake buffet
. Celebrating was to be done when I
sent out
our
invitations
. We took our engagement photos and I
waited
patiently
to see the photos. I got
sick
. My sister in law/maid of honor had spring break and she brought me our lovely
table runners
. And finally, my wonderful bridesmaids finished off the month by throwing me a
bridal shower
.
April: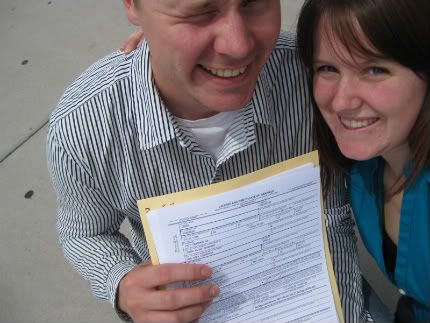 I
moved
into our cute, little house - which apparently kept me from blogging too much. I hit a wedding planning
wall
. We made this wedding stuff legal by getting our
Marriage License
. David booked our
rehearsal dinner
. I made last minute
projects
, solved my
shoe situation
, and discovered
Costco's flowers
.
May: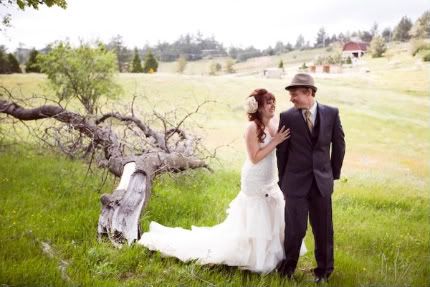 We got our e-pics in, and I
showed
them
off
. Just weeks before our wedding, all our photographer's gear was
stolen
. I
completely broke down
on the phone with Costco over flowers. Last minute wedding stuff got
crazy
, and I didn't blog the two weeks before the wedding until I
checked in
among the madness. And, finally,
we got married
! (And then we went on our honeymoon in Jamaica - which I apparently never blogged about!? I will fix this soon.)
June:

After the wedding, my blogging turned into full-blown recap mode. I
recapped
the
week
of
the
wedding
in
full
detail
. David and I worked on unpacking his stuff and getting fully moved in to our home. I worked my first wedding as an
assistant coordinator
. I dove into a new job - working as a team member for the second biggest Chick-fil-A opening in the chain. I took a small vacation to visit my sister-in-law in the bay area and celebrate her graduation. And then, finally, at the very end of the month,
Sarah Shreves
gave us a
sneak
peek
of our wedding photos.
July:

In July, I
finished
the pre-wedding recaps, and we got our wedding photo
disc
in the mail, so I started to
recap
the
day
of
the
wedding
in
many
posts
. Apparently I was busy with work and recaps because I didn't posta about anything else - nor do I have photos or memories of much else.
August:

August
brought
more
wedding
recaps
. I took a break to
paint
our
bedroom
on the hottest day of the year. Then, I posted a few
more
recaps
. I ended the month with the most
awesome week
full of friends, silent movies, food, petting baby giraffes and zebras, and overall adventure with the people I love.
September: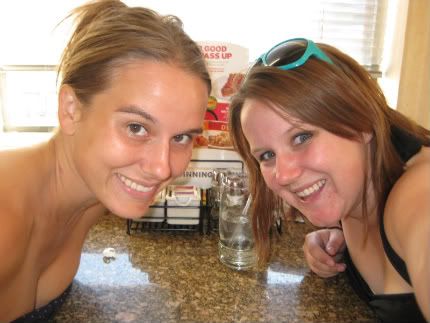 In September, I
did not post
, but I had a very full month of finishing a big project at work and some major letdown that I'm still pretty bitter/hurt by and unable to discuss. On the bright side, I had a fun beach day with
Nicole
, and got to experience clinging to my husband in the middle of big disappointments and fears.
October:

Blogging was still pretty light, but I
posted
recaps
of
our
ceremony
. David and I splurged and used our leftover wedding gift money and cash we'd been saving to take a trip to Disneyland with some dear friends. For a grand finale, we took a trip to the
Bay Area
for a roommate's wedding, and to celebrate my
birthday
(and I found
Sunrise
!)
November:

I made up for the few months of non-existant posting by taking part in
NaBloPoMo
(but somehow stayed out of every photo taken this month - the one above is technically from October). This brought
some
more
wedding
recaps
. I celebrated my birthday with the in-laws with an awesome
cake
. I discovered the joy of Photoshop
actions
. I started working mostly opening shifts at work and longed for a
true autumn
. I shared my
favorite
parts of
Thanksgiving
and my favorite all around
food
. David and I
celebrated
Thanksgiving
with my family, and I worked
Black Friday
. I
succeeded
at posting every day, and won a month long contest at work with a grand prize of one hundred bucks cash.
December:

I got in the
holiday spirit
, posted about
wreaths
, and decorated a
table
for a party. I attended five Christmas parties in one week - including one for David's work, my work, and my small group - complete with hilarious gift exchanges, good food, and friends. I
decorated
the house and wrapped pretty
gifts
. David and I both entered the world of smart phones with new free phones which helped me
document
the month. I made Christmas cookies with my family, looked at lights with friends, cooked Christmas eve dinner for both my family and David's, and celebrated Christmas at my parents' house and David's grandma's. Also, I apparently went another month where I stayed out of photographs. Maybe another goal for 2011 will be getting more photos of myself.