I've decided to join the ranks of bloggers who post their daily outfits. Good idea or no? I figure I have more to post now that I have a job where I get to dress up in cute office attire instead a uniform. I don't know how often I'll post an outfit - I guess it depends on if I can figure out a regular system of setting up a tripod or how many mornings my husband is still at home once I'm dressed and ready to go (he normally leaves much earlier than I do on the days I work in the office.)
I'm starting this series on a Sunday because Sunday has always been my favorite day to play around with new clothes. Our church doesn't really enforce any kind of formal dress code, but I still love to dress up a bit. It's a great time to experiment with fun outfits.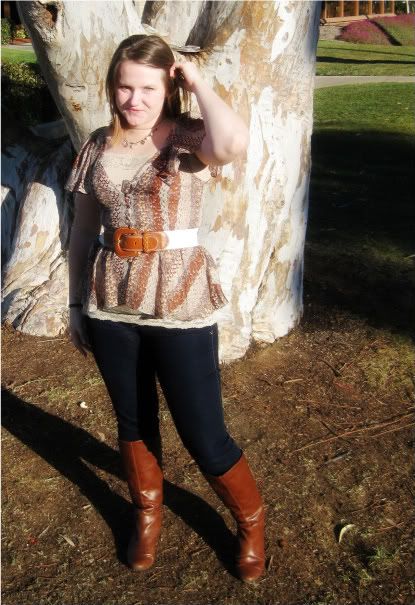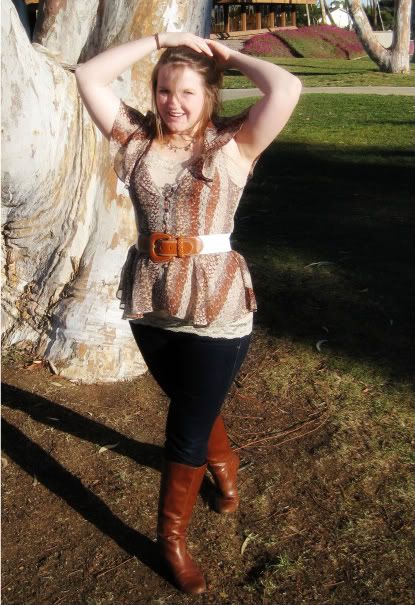 Top: Anthropolgie - $25 (sale), Tank: random cheap store, Necklace: gift, Belt: Nordstrom - $12, Skinny Jeans: American Eagle - $20 (sale), Boots: Target - $25*
This outfit basically put itself together the other day when I was shopping with my mom - I was already wearing the jeans, boots, and tank top with a different shirt over it when I walked into Anthro. I wouldn't have given the shirt a second glance because I normally don't do well with prints and it was a way smaller size than I would have thought I could wear (it was the only one left from an older season and way on sale.) My mom encouraged me to try it on, and it worked so well with the rest of my outfit. I had literally just bought the belt and wondered what exactly I would wear it with - so, I grabbed it out of the bag, and as soon as I put it all on together I was in love.
Thanks to David for taking these pictures. We snapped them on our way into church in the harsh early morning sunlight, but they work alright. But boy oh boy do I need to re cut and dye my hair... my bangs just blow around in my face now which is why I have my hands in my hair in these photos.
* I know there are mixed feelings out there about posting the prices of each item, but I think it's a great way to show that you don't have to spend a ton of money to look and feel great in your clothes.