Part of our lease agreement is that our landlady takes care of the outside of our house. She loves gardening, so when she waters and mows the lawn, sometimes new little surprises arrive. We've had new potted plants arrive on our patio and stay for a few days as a holding spot until she's ready to plant them in her yard. The new arrivals always make me smile. Recently, we've gotten some new arrivals that seem like they're ours to stay - a little bunch of baby succulent plants that have been planted right in front of our house.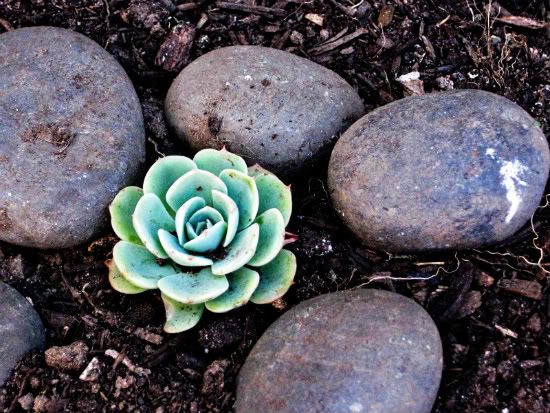 I love them - especially the tiny one in the center photo (it arrived first all by itself and when I noticed it, it made me so happy.) It's nice to notice and appreciate the simple beauties in life. And I love that we have a landlady who cares enough to leave us nice little surprises.
I'd been meaning to photograph and post about these precious plants for awhile now, but I've never been home and ready in good light. Today is a beautiful day, so I jumped outside with my camera all ready to capture them - it was not until that moment that I realized that the succulents are always covered by the shadow of our house. Thank goodness for Photoshop actions.