Since about half of our guests spent the entire weekend out in Julian with us for our wedding, I wanted to be sure to include some sort of out of town bag in their rooms. Unfortunately, this was a project that got left on the wayside, and was barely finished. My lofty ideas turned into something very simple.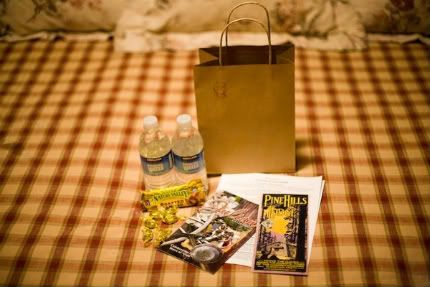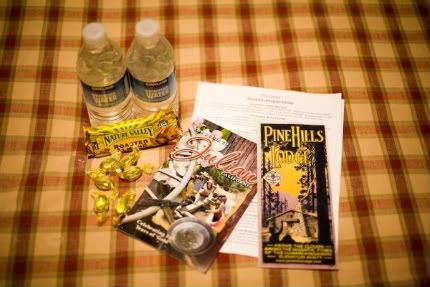 Each bag contained a few water bottles and a granola bar (I originally intended to encourage guests to go hiking on Saturday before the wedding officially began - before I knew how cold it would be), Werther's originals - the most "rustic" candy I could find, a flyer/postcard from the lodge, a Julian information pamphlet, and some printouts with maps and information. I originally planned on making pretty wedding-themed cards with a timeline and other information, but it never happened. Amazingly, people seemed to get on just fine without it.
If you look really closely at the top left corner of the bag you can see my pitiful attempt to make it themed. I used the gocco screen and frozen/dry ink left on it from the invitations to print our globe monogram onto the bags. It only really showed up on a few of them, and I doubt anyone even noticed. That's what lack of supplies and time plus laziness will get ya.
Nobody really left the lodge for anything except breakfast on Saturday, so these were really not all that necessary, but I am glad that
Sarah
noticed my efforts and documented them.