Sorry guys for being MIA and whiny lately - I guess I'm just in a rut. I really do enjoy blogging and have things I'd like to share. I can't promise how regularly I'll post, but as long as there are still people out there (anywhere) who enjoy what I have to say, I'll try to find the time to say it. Thanks for the comments/suggestions/suport.
A few weeks ago, I had the chance to attend an assistant education event with
Bliss Events
- where I get to assist with weddings every now and then. For the event, we headed to Paula from
Rae Florae
's shop for some tips for assembling and fixing bouquets and making boutonnières with limited supplies on the wedding day.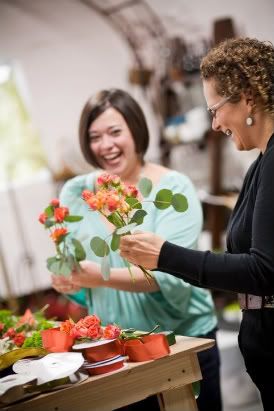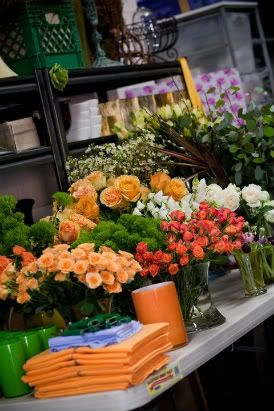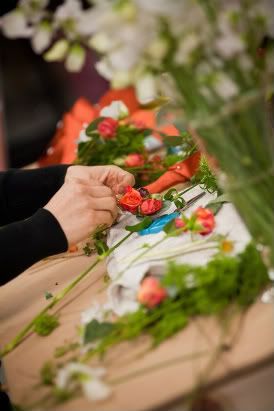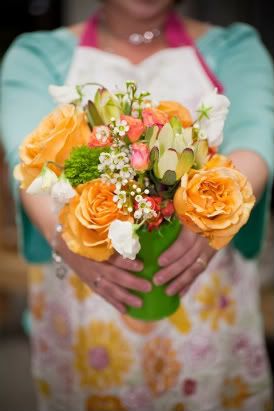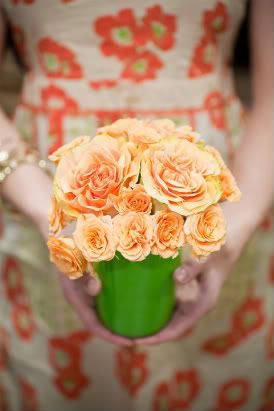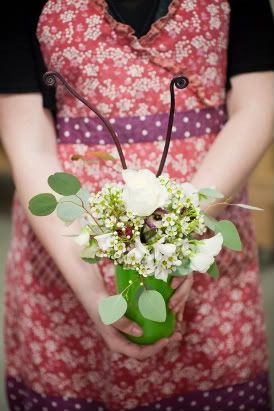 Some helpful hints I walked away with were that when assembling a bouquet, the stems should all rotate or spin the same direction in the handle so that nothing crushes anything else, a bridesmaid bouquet can be pretty easily dis-assembled and made into two if an emergency calls for it, and when pinning a boutonnière, folding the edges of the jacket lapel in makes it a lot easier than trying to bend the pin around the stems.
What I found most interesting, however, is how many different aesthetics you can create from the same bunch of flowers. At the end of the event, after sipping champagne and snacking while watching Paula at work, we were each given a vase and given the freedom to use any of the flowers to assemble our own bouquets. In the photos above, mine is the last one - see how different it is from the rest? Each bouquet - made by we mere amateurs - had it's own unique style. And they were all beautiful.
All photos were taken by Shannon from
Studio Carre
who joined us for the event and took some great group photos for the Bliss website. I honestly think one of my favorite parts of the night was when we each got to put on one of Paula's cute Anthropologie aprons and pose with our creations.
I feel so blessed to be a part of the Bliss team and can't wait until the next assistant event - where we get to learn about (and eat) wedding cake!
Also, check out this feature on the event on
The Bride Suite
by Exquisite Weddings!