After a great workout yesterday morning, I felt like dressing up a bit for work. This dress is not necessarily something I would normally buy - I tend to shy away from busy prints, but it was way on sale at the Banana Republic factory outlet, and it's become a nice item to have in my closet.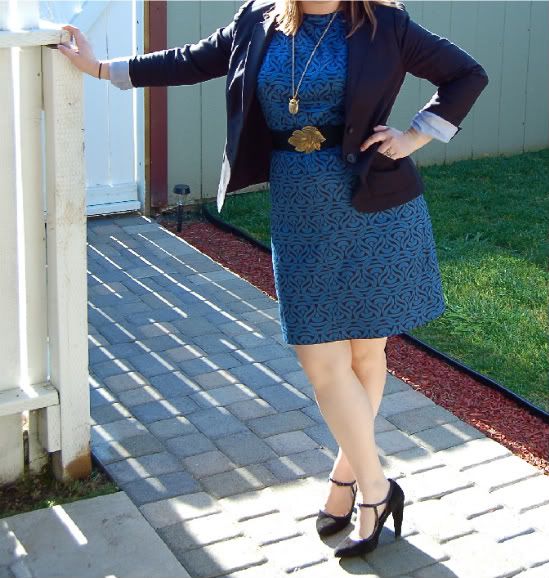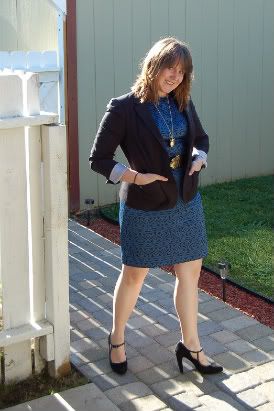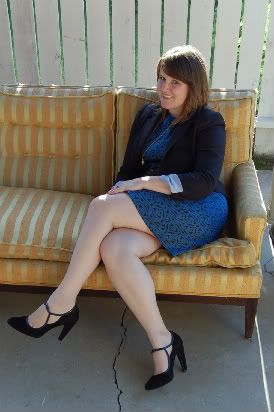 Please excuse the cut off head in the first shot. It was the best photo of the clothes, but the absolute worst of my face.
It was nice to bare my (extremely pale) legs and hope that the walk to and from my car provided them with a bit of much needed sunlight. David and I had a date night out for Italian food this evening, so I got to stretch this outfit further. Amazingly, I wore these shoes all day with absolutely no pain or troubles - granted most of the day I was sitting at my desk.
And yes, as you can see, we currently have the awesome street-find couch outside. It absolutely will not fit in our house and we've exhausted our storage options. I'm thinking it's probably time to consider re-craigslisting it. Maybe I can make a profit. Don't worry - it's under an overhang for the night.
Dress: Banana Republic Factory Outlet, $19?, Jacket: Banana Republic (with suit pants), Belt: Modcloth, $15, Necklace: Antique store, $5, Shoes: Nordstrom, $45?