I was browsing craigslist yesterday afternoon when I saw a post that said "beautiful antique couch - FREE! I just put it out in the alley - come quick!" And that had been posted three hours before I read it. I decided it was worth checking anyway (even though it was probably gone and we don't have a vehicle that could even begin to carry a couch), so I got David to begrudgingly accompany me on an adventure.
We reached the alley in question and saw a furniture item ahead. Upon closer inspection, it was not the couch at all - but an awesome leather overstuffed chair - something I've been wanting for a while. We shoved it into our car (because this chair, unlike a whole freakin' couch, was small enough for the back seat) and went on our way. As we were about to pull back onto the street, we saw it - the couch was in the alley on the other side of the street. We pulled up, sat on the couch to claim our prize, and called David's dad with an Expedition to come pick it up for us.
And that, my friends, is the story of how we came home with not one, but two
new
old but awesome pieces of furniture.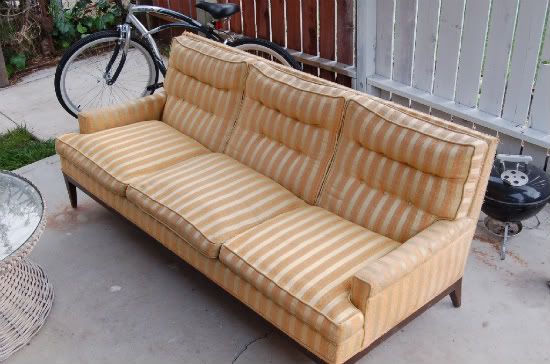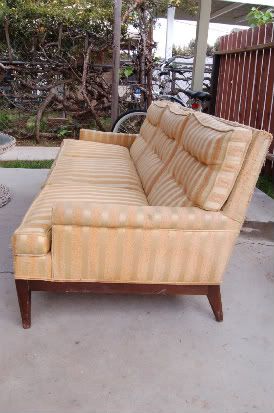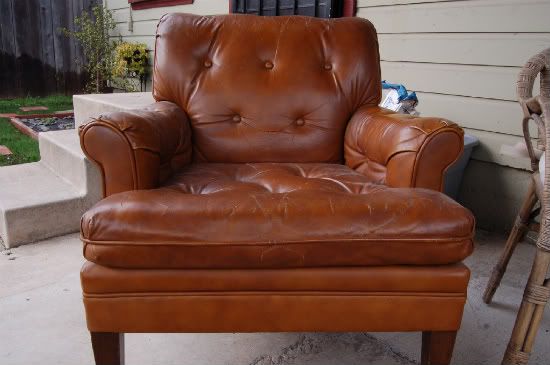 photos by me.
The couch should probably be reupholstered and the casters on the chair are rusty if we're talking serious, but they were free. David wants to take the casters off anyway, and maybe I'll invest in some good upholstering someday. So far, we have no idea where to put these lovelies, but I'm working on that.