I re-pinned both of these images on
Pinterest
this morning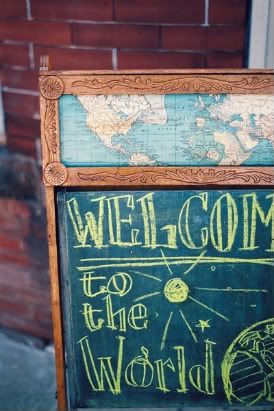 They're completely different in design and function, but they're both chalkboards. Beautiful chalkboards. They reminded me of my love of chalkboards in design and the fact that I have this guy sitting around from the wedding still:
Sorry, that's the best photo I could find of him - see him hiding among all the other wedding stuff?
Anyway, I was always planning on re-selling my wedding chalkboard to make up for some of the cost, but it's been a year now and I still have it - In fact, I think it's still in the trunk of my car from driving it home from the wedding. My chalkboard is an a-frame stand with a board on both sides (more like the first photo), but I'm wondering if I could take on a little DIY power and attach it to the wall (like the second photo) - it really would be nice to have a menu board, or perhaps a calendar, like that one.
I guess I'll play around with it and see what I can do. I hope you're all having a fantastic week!