I've been plagued by piles my entire life - give my family a flat surface and you're sure to find piles upon piles of mail, magazines, junk you just don't know what to do with, you name it. My dad actually claims to have a "master plan" for organizing his and my mom's house - which really just means more piles. Anyway, I definitely inherited my dad's pile genes (and married another pile-prone man.) Want proof? This is what our little pantry table looked like on a good day:
Full disclosure: this was
after
I spent a good hour sorting through the piles on this articular space - I recycled, shredded, and filed away more than three times what you see here. Anyway, this spot has always bothered me - even when our little house is otherwise spotless, the piles just make the whole place look cluttered. I decided we needed a plan, and fast.
After some good time recycling, shredding, and filing away most of said piles, I came up with this: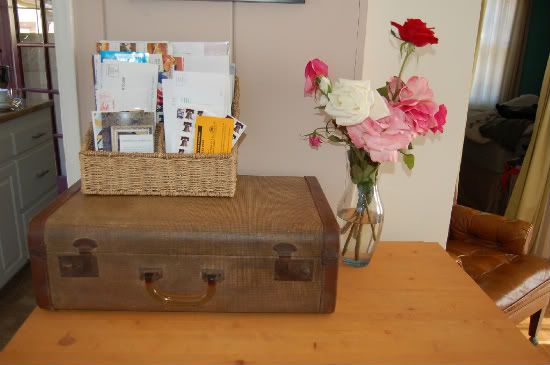 Isn't it lovely? The suitcase was a wedding prop, the roses are from my mom's yard, and the great little organizer was a part of a kitchen set wedding gift from my aunt. Now, as long as we can remember to stuff our mail and coupons in the organizer and
get rid of the junk
, we shouldn't have the regular piles. The best part? I was able to store tons of my craft stuff in the suitcase and finally get rid of that bright green/pink box that it's been in since the eighth grade.
Now, even though the rest of the house is a mess, I can breathe easy when I look at this spot. Amazing what a little organization and charm can do to a space.