Ever since an
educational event
with
Bliss Events
at
Sweet Cheeks Baking Co.
, I've wanted desperately to try my hand at baking a cake from scratch. I even went as far as inventing party ideas just so I could bake a cake for it. Turns out, I didn't need to invent a party - my side job was celebrating their one year anniversary since opening last June with a potluck!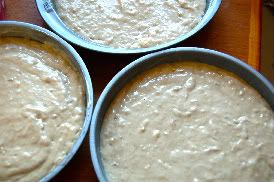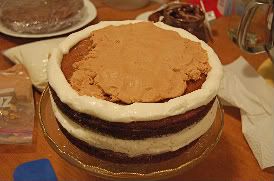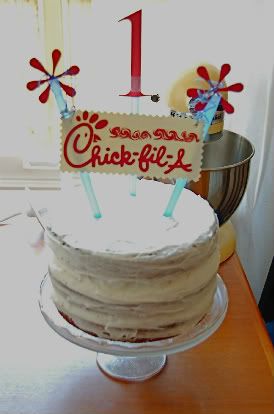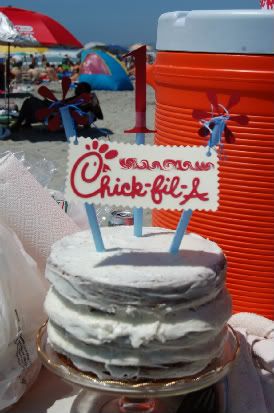 Banana cake with peanut butter and nutella filling - It's not the prettiest thing I've ever seen, but it was fun - and delicious! The cake recipe is from
here
. I don't necessarily recommend the book because it was written in Britain and the recipes require fancy (read: more expensive and harder to find in America) ingredients like self-rising flour and caster sugar, but the cover is super cute and the cake was delicious. I made
this
peanut butter filling for one layer and used Nutella for the second layer of filling. (You might have noticed baking chocolate in the original ingredients photo - I was going to make my own chocolate filling but got lazy. Nutella is delicious, anyway.) Then I made a buttercream frosting, but I don't remember where I got that recipe. Um, as you can see from the photos, buttercream melts in the sun. But, I didn't care - it was tasty.
My only major cake baking advice that you may not already know is this:
1) Bake the cake (and the fillings and icing if you like) a day early and stick em' (unassembled) in the fridge. Assemble after it's all cooled and settled.
2) pipe your outside icing around the edges of the layers - it keeps the filling from seeping out. (As you can see in a photo above.)
After days of kitchen fun, I headed out to the beach (thank goodness I got someone else to drive me so I could carry the cake - I'm a crazy person for baking a three-layer cake, putting it on an antique stand, and expecting to be able to drive myself across town with it.) After we all got our fill of the deliciousness, I promptly won a sandcastle contest (and re-used the cake's decor!) Hooray for crazy adventures.

all photos personal photos.