I have been putting off thinking about flowers for the longest time. In fact, whether or not I would actually end up with a bouquet by my wedding day has been hanging over my head to the point that it's funny to me. Sine I always knew I would be making our
centerpeices
,
boutonnieres
, and other
decor
, and that my bridesmaids would be carrying
baby's breath
, it seemed silly to hire a florist. I played with the idea of creating some DIY masterpiece for my bouquet, but at this point, there's not really time.
So, what's a girl to do with three weeks and no flowers? Enter
Costco.com
.
Costco sells flowers in bulk online which you can schedule to be delivered to your door or your closest store on the day and time of your choice. That sounds like a fantasy land where magical Costco elves deliver perfect flowers to happy brides, and I fear it just cannot be, but the many reviews on the site have confirmed the time, quality, and can't beat it price of the product, so here goes!
Costco even has full wedding package options available. If you're a simple bride who wants all
white roses
(above) or
mixed garden flowers
(below) for her wedding flowers, you can purchase packages that provide everything - bridal and toss bouquets, bridesmaid bouquets, boutonnieres, corsages, centerpieces, and more - for a mere $400 or $430 respectively. Wow!
They also have
Calla Lily
,
Hydrangea
, and
Sunflower
collections for $750.
And if you're a true DIY bride who needs the whole floral package but can assemble it yourself, there's the
Do-It-Yourself Bridal
and
Reception Kits
. These kits come with the flowers, filler, floral tape, bout pins, ribbon, and everything else you would need to assemble the flowers yourself.
However, since I'm just looking to make a few nice bouquets and maybe create some ceremony decorations, these kits aren't for me. But never fear, Costco sells a fairly large selection of flowers in bulk. Here are some of the options I'm considering and deciding on ordering.
This
Combo Box
of Callas, Roses (which I would get in white as well), and Lilies would be a great way to get more than one flower on the cheap.
Then again, there's always
Roses
or
Lilies
on their own for a good bouquet base.
Then again, I love the look of the
Star of Bethlehem
and the
Alstromeria
.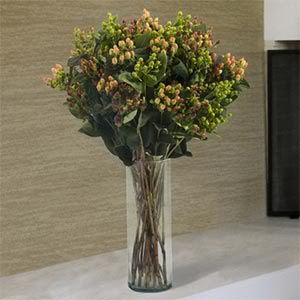 and of course, I'd order the
Baby's Breath
for my girls, and I would love to have this
Hypericum
as filler for my own bouquet.
So what do you think? I can probably order two or three blooms plus the baby's breath. How much baby's breath will I need to order to make 5 bouquets? Which blooms should I get for my own bouquet? (anything left over from my bouquet will be ceremony/aisle decorations.) Any suggestions?