It was warm and sunny yesterday - the perfect excuse to embrace springtime with my wardrobe. It was the first time since getting my new job where I can actually dress up for work that I haven't needed to dress for warmth.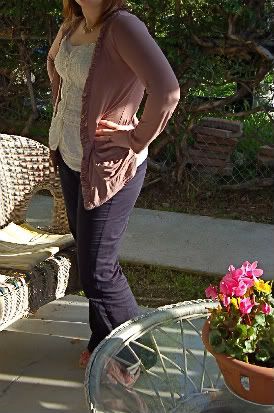 The pants are super comfy, and they were on sale at the Banana Republic outlet. The pink top was my gift to myself around Christmastime with a Nordstrom Rack Groupon (I was able to buy both of my sisters' Christmas gifts and a pair of earrings with it all for the $20 or $25 Groupon.) I've had the white tank top forever - I honestly have no clue where it's from. It went a long time in my closet totally forgotten until I re-discovered it recently. I love its girly ruffly shape and eyelet design. (edit: I just checked the tag - it's from Aeropostale - a shop I wouldn't even think to shop in now. Funny.) The staple which the whole outfit was built upon, though, are my shoes.
I was never one for wedges - until I found these cuties at the J Crew outlet in Napa just after graduating from college. I love the colors, and they give me some significant height while still being comfortable all day.
Necklace: American Eagle - gift. Rose top: Nordstrom Rack with Groupon. White eyelet top: Aeropostale ages ago. White tank. Navy pants: Banana Republic Factory Store. Plaid wedges: J Crew outlet. I don't remember the prices on anything, but it was all on sale significantly.