12.23.2011
Hey, so let's ignore the fact that I haven't posted in
forever
, shall we? Thanks. Technically, my excuse is that I created a Word Press site to unveil my new event planning name and then I got stuck on the customizing and aesthetics, so it's all on hold. But, we're ignoring the large gap in time, right? Is anyone still here?
I'm writing today to ask all you praying folk to join me today in prayer for a dear friend. He's the worship leader at my church and has big plans to move to Nashville in a few months to pursue his music career. Well, on Sunday, he was admitted to the hospital after some major swelling in his face and neck led to the discovery of a very large mass in his chest.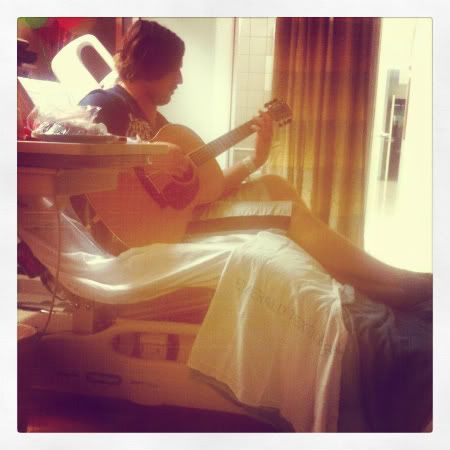 You can visit a site with updates and such about Jeremy
here
.
Originally the doctors thought it was lymphoma, but the official biopsy diagnosis has revealed that it is actually a rare form of cancerous tumor, but that the hopes of recovery are very high.
As his father has said, "We received a diagnosis and it changed from the preliminary diagnosis! Jeremy has Mediastional Germ Cell Tumor Seminomatous, evidently a dormant tumor that has developed a life of it's own and is really big and malignant. The aggressive chemo starts tonight. The treatment cycle should end in about 4 months. The outlook for healing is very good with some dark, dangerous days and weeks ahead. We covet your prayers throughout this whole process. More details will be posted tomorrow."
A group of friends and members of my church are getting together at 1:30 (pacific) at the hospital to pray over Jeremy as he begins chemo. Please join me if you will. I believe in a God who is Mighty Healer and who has great plans for my friend. Thanks.
Posted by

lauralove.
at 9:03 AM
1 comment: